Weekly Round-Up: Mother's Day, the Harlem Shake & Inventive Punctuation
We got a taste of Spring when the sun poked its head out for a little while this week.
Hopefully the sun will shine on for Mother's day and this coming weekend.
If you'd like to plan something special, why not hop over to Visit Bristol for a few enticing special Mother's Day offers and treats?
For something more alternative, the Watershed is putting on a film series comprised of a number of contemporary Japanese filmmakers.
'Once Upon a Time in Japan' explores the vibrant history of Japan in different genres, from horror to animation.
The Easter holidays are fast approaching and Bristol has plenty going on as ever.
We've found some fun looking Easter competitions and a useful overview of some great Easter attractions in the Bristol area.
This week at GWS we've enjoyed touring client factories, putting the finishing touches to our new website, and completing web updates for Three Sixty Plumbing.

Marketing & Social Media
Do you have expert knowledge or particular skills that others don't?
Why not make an instructional or brand video to help you get your name out there?
The benefits of creating a foolproof online video strategy are growing by the day and if you can find ways to think outside the box, your business could see some impressive results.
Your budget doesn't have to be endless either. 
The Original Harlem Shake Video
Gilad Lotan has written an interesting article for the Huffington Post on 'The Harlem Shake & the Anatomy of a Viral Meme".
He details the infectiousness of this simple video and also writes how "we see a clear network of influential YouTubers across the U.S. and the U.K. combined with a dense cluster of musicians and DJs who helped make this meme incredibly visible". 
'The Harlem Shake' puts into action how a unique but simple concept, coupled with some good research into the key online influencers in your area, could go a very long way in the world of online video, whether you're a business or not.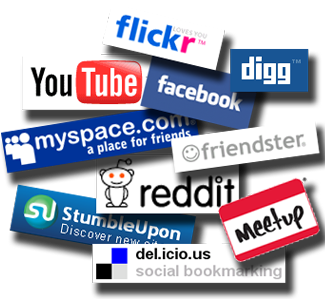 Image via Edudemic
If you're using social media, do you know enough about the audiences of each of your platforms?
Heidi Cohen has compiled some tips on actionable marketing in social media, detailing the age and income distribution of different people on different social media platforms.
Art, Design & Technology
CMC (Computer Mediated Communication) has changed the way people express themselves.
Words such as 'LOL', emoticons and keyboard smiley faces now provide shortcut ways to show emotion.
College Humor featured eight brand new punctuation marks they thought were missing from the current punctuation repertoire - we thought the Hemi-Demi-Semi Colon was amusing:
This unusual pair of slippers by Lasso caught our eye this week.
Like most footwear, they start inside a box, but flat-packed, which means you have to assemble them yourself before slipping them on. 
We also enjoyed this fascinating look at the evolution of photography over the centuries: 'From camera obscura to camera phone' by Eva Timothy.
It's your turn!
We're always interested to hear your comments on anything we've mentioned in our blog, as well as suggestions for future content!