Social Media Through Time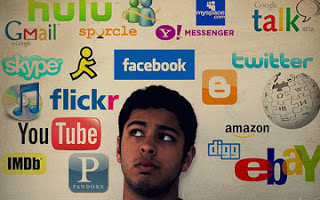 It's sometimes hard to believe, but it's true: social media networks which are now such an established part of the online landscape, have not always been around. While memories of the pre-
social media era fade into oblivion, it is also easy to forget that social media networks have not always been the same, or looked the same, as they do today. We're going to take a trip down memory lane in order to consider what makes the biggest platforms, and why they are at the top.
The first recognised and properly established social media network was Geocities which launched in 1994. Geocities was nothing like the social media sites of today, it allowed people to build websites, rather than profiles, about themselves. However, like networking sites of today it did allow people to form online communities, which is the key element of all social media.
Yahoo went on to buy Geocities in 1999 but shut it down in 2009
, as the number of users didn't make the maintenance worthwhile for Yahoo. Geocities faded into memory as social media grew, expanded and adapted.
Another pioneering social network was Classmates.com which made its debut in 1995, it still exists although not as well-known as some others. Classmates.com is a social networking site which helps its users connect with people they went to school with. The failure of Classmates.com to have a lasting impact was blamed on it being overshadowed by other social media sites and its release 'before it's time'. A big aspect of the impact and longevity of social networking sites is timing, a great example of the introduction of a well-timed social media site was Pinterest. Its creators really saw a gap in the market in terms of the capabilities of visual social media and the need for something fresh and new.
Another social networking site dating from 1999 is LiveJournal, allowing people to write articles and share them with friends. again, other social networking sites as well as blogs have tended to overshadow it, sites such as Facebook and Twitter allow blog promotion and have drawn the lion's share of active uses. This points to a reason for the successes of the big names in social media today, many offer a range of functionality which widens their appeal to a mass audience.
When talking about the past and present social media networks MySpace has a slightly different story to the others. MySpace launched in 2003 and was the social media darling of the moment, especially for musicians as the site gave them a forum to showcase their talents. MySpace was bought, in 2005, for 580 millions dollars but slowly began to decrease in popularity . People attribute this to issues with the site such as slow loading time, too many advertisements etc., but it seems more probable that the overwhelming
popularity of Facebook eclipsed it
. In order to survive MySpace has specialised in its niche, rather than being a social networking site it became a social-powered discovery engine and player for music. As well as broader social media sites which offer 'a bit of everything' there are many sites that thrive by focusing on a particular niche. This is an area where Pinterest is thriving as it allows its users to select their niche interests using specificity within its pin boards.
Facebook and Twitter have dominated the market and have often overshadowed other social networking sites, some social media sites consequently strive to create connections with Facebook and Twitter rather than trying to compete with them.
Other reasons for the longevity of these sites in comparison to the decline of their predecessors is small but constant changes, even though people will complain loudly, for example with the introduction of Facebook's timeline feature, these adaptions stop people getting bored and often link to strengthening the sites main appeal, for example timeline responded to the importance of images on Facebook. In case you've forgotten
click here
to check out what these sites used to look like. Just as within other areas of web design, changes are important to stay fresh  and encourage people to keep turning up.
The history of social media and social networking shows just how transient  and reliant on trends it can be. The social networking titans such as Facebook and Twitter have managed to establish themselves and make roots in popular culture, with their strong and clear branding techniques. Along with this, constant efforts to provide their users with a good experience and useful features helps to cement their place in the social media scene. If they continue to do what they are doing, then perhaps these sites will, unlike many before them, stand the test of time.