If you are someone who finds it easier to get into the Christmas spirit with music, drinks, food, decorations, present shopping or one of the many other ways we mark Christmas - then this year we have another item you can add to help get that Christmas feeling - Christmas Apps.
If you have an iPhone or an Android phone, then you will find both App stores are heaving with festive applications of all kinds. Below we have picked out a list of some of the ones that caught our attention. As with all seasonal items, these may have a shelf life - so please enjoy them while you can!

1. Message from Santa!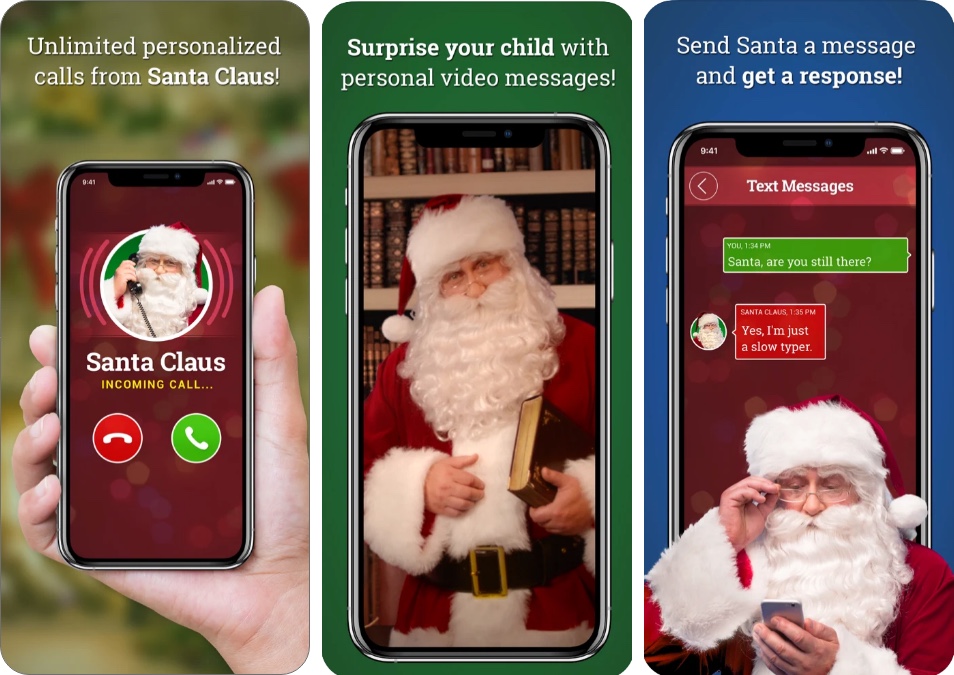 With the Message from Santa app you will be able to create personalised video messages for your children and perhaps even adults, just for fun, from the main man himself. Just pop in details such as name and a photo and have Santa Claus do the rest.
Another option is receiving a call from Santa, simply fill in the recipient, the reason for the call (which offers a drop-down list of suggestions such as, 'Put on nice list, because…' and 'Check if still behaving') and pick a time for the call from immediately to 30 minutes. With more option including being able to leave Santa a voicemail and even texting him and receiving an instant reply, this app could provide hours of entertainment children and the family alike. You will be subject to ads as you navigate your way around the app to explore the options but these aren't too intrusive.
---

2. Christmas RADIO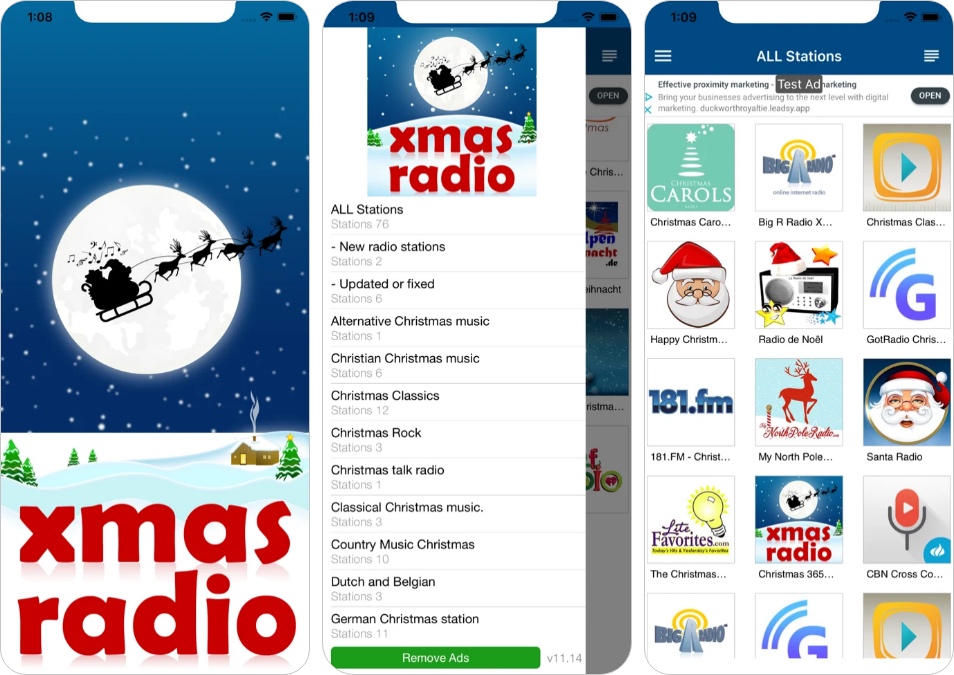 Calling all those who insist on playing Christmas songs as soon as Halloween is over, introducing the Christmas Radio app.
Allowing you to tune into over 180 (during the festive season) different stations for all your Christmas hits needs. Everything from Christmas classics, old favourites, new hits and all that lie in-between. Indulge in that guilty pleasure of Christmas songs and enjoy Christmas radio however early you like! Browse through radio stations including Smooth Christmas, 80s 80s Xmas and Holly FM and even Christmas themed podcasts, North Pole Podcast, Tinsel Tunes, Weird Christmas and more to find your favourite Christmas listening. You will face various in app banner ads but they might just be worth it to indulge in that guilty pleasure of Christmas themed tune.
---

3. Christmas Countdown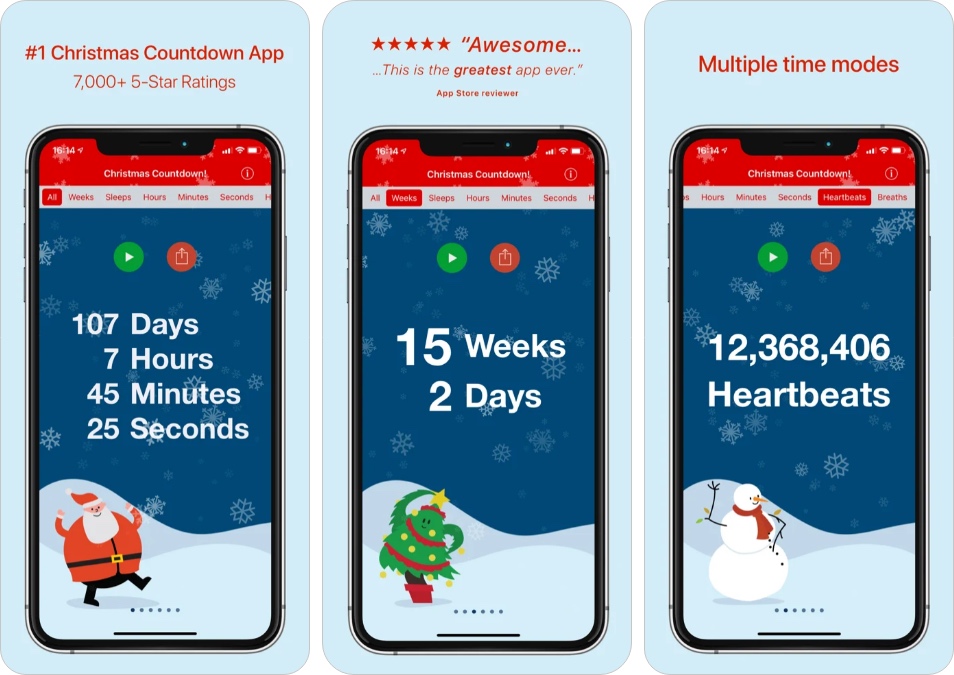 Does the countdown to Christmas fill you with excitement? If so, then try out the Christmas Countdown app that allows you to watch the time tick by and updates you, either weekly or daily depending on what you set the notifications to, as to many days, minutes, heartbeats and even breaths there are until Christmas!
Choose from one of 6 Christmas themes characters to join you on the countdown, including a very jolly looking Santa himself, a snowman, a Christmas tree that looks to have arms and a smiling face, a proud robin and more.
Download: Apple
---

4. Santa's Bag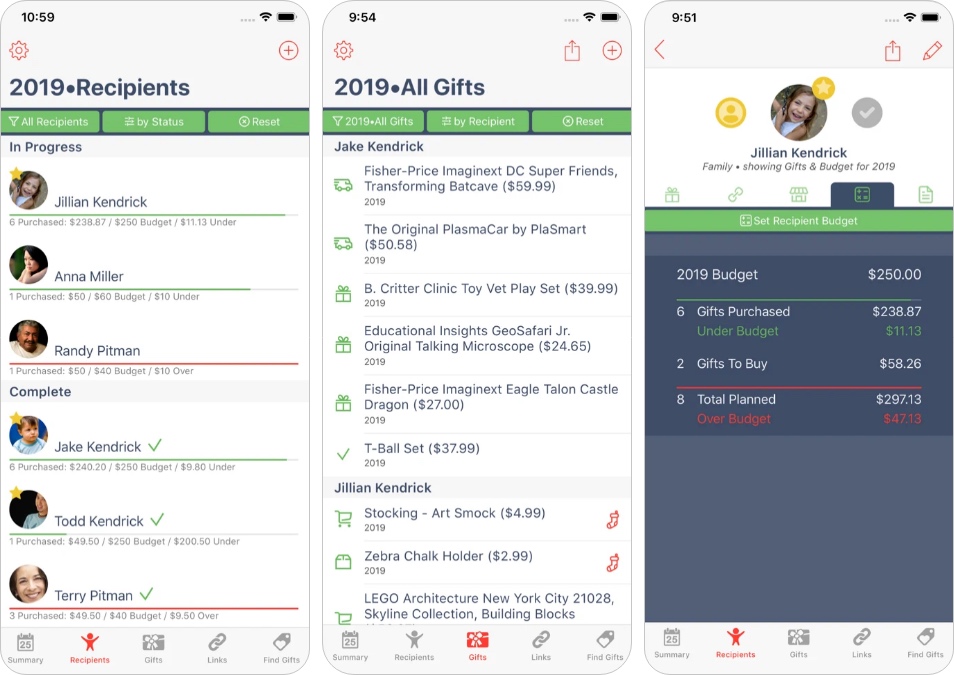 Santa's Bag could be the perfect app for anyone that find the prospect of Christmas shopping a little daunting or those who perhaps have quite a few people to buy for.
The app acts as a to do list almost, allowing you to add recipients you need to buy for and information such as links to what you would like to buy them, the price, whether the gift is a 'stocking stuffer' and other various options. The homepage acts as an overview once you have set up all the gifts you need to organise and allows you to add a budget to ensure you don't overspend. This one if perfect for any organisation lovers out there!
Download: Apple
---

5. Punchbowl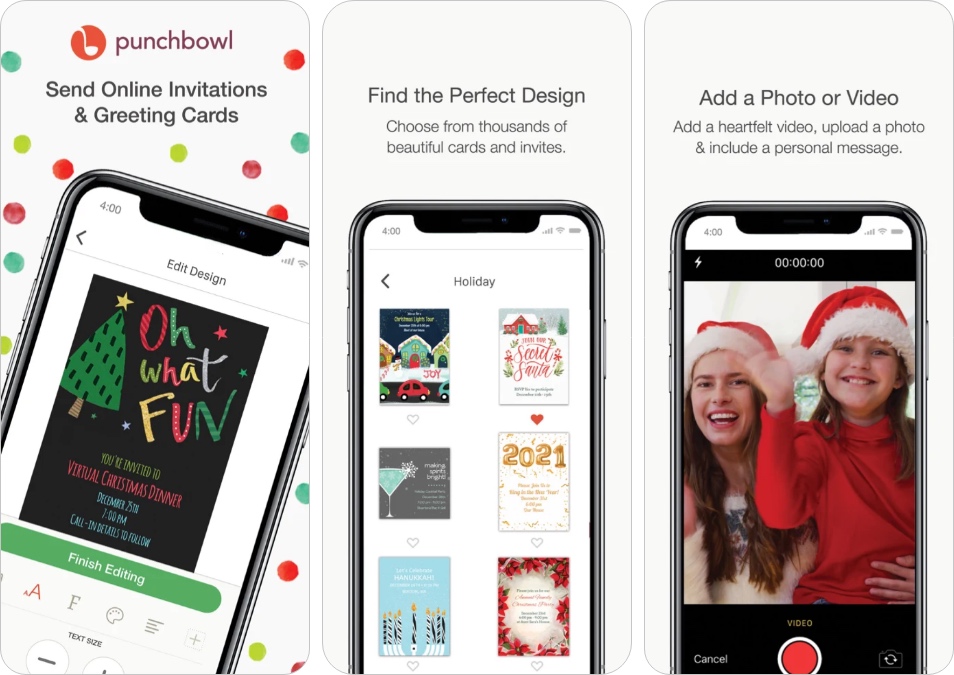 One of the main functions of this app is allowing you to send free e-invites, of a variety of designs for many kinds of parties. Although invites to parties will not be of much use this Christmas due to various lockdown and tier restrictions, the app also offers the option to send free e-greeting cards which we think will definitely come in handy.
This might also be an app not just for Christmas as there is a variety of occasions it offers cards for. There is some degree of personalisation of the cards available, such as being able to upload photos and video messages but these are only unlocked with the paid subscription service of the app. A subscription will also unlock more designs.
---

6. Santa Dash from Santa Guy

This one we haven't been able to review as much as we'd like as it will cost £1.99 to download the app but from what we can see this one does what it says on the tin.
In an animated game, you play the Santa character and run across the rooftops as far as you can get. The aim, to collect mince pies as you go and to avoid at all costs falling from the roof and sticking clear of ice and chimney pots. It may well be a good thing we didn't download it as we imagine it is a pretty addictive one.
Download: Apple
---

7. Christmas Pics Quiz Game

Following the download of this game, you will be presented with a image covered with a number of squares to obscure it and a number of letters below that will make up what the image is. As you tap on the squares the image will be revealed and you are able to add letters that you think will make up the hidden image.
The lesser squares you reveal to make the correct guess as to what the image might be the more gold coins you will score. Your gold coins will enable you access to other packs for the game across a variety of themes.
---

8. Christmas Sweeper 3
This one will be sure to keep you entertained throughout the Christmas period and perhaps beyond but as with other apps we have mentioned in this round up it may well prove a little addictive.
Work your way through the levels by swiping the Christmas themed objects in different directions in order to create lines of the same object. Once a line has been created, it will disappear to be refilled from above with both existing and new objects. The games and levels look like them could go on forever, you'll have to let us know as we called it time after level 2.
---

9. Secret Santa 22: Gift exchange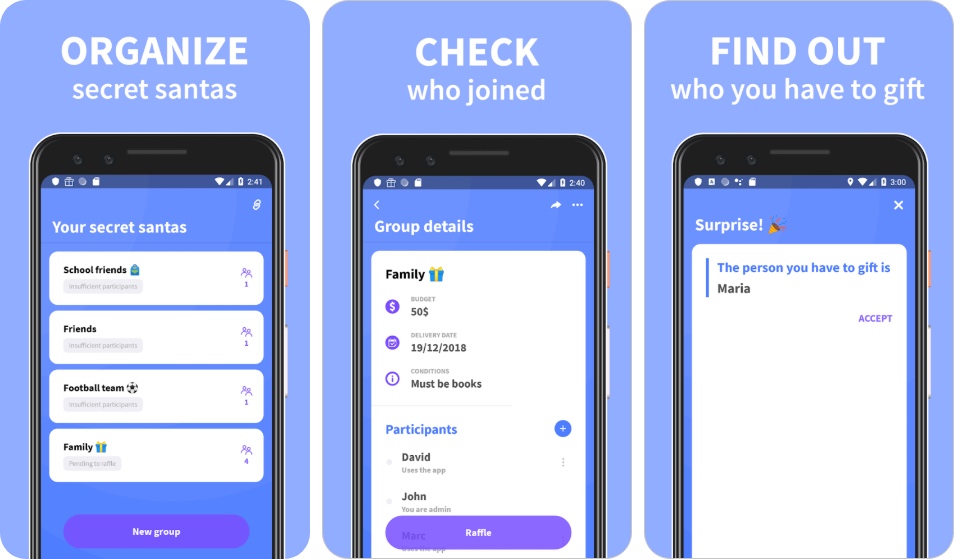 Have lots of people to potentially buy and not sure where to start? Why not suggest a secret Santa for various groups or friends or family? If you fancy it, Secret Santa 22: Gift Exchange will help to set it up and keep it organised.
Head into the app once downloaded and hit 'New group' you'll then be asked to name the group, set a budget, enter a delivery date and any other conditions and then finally add your name to the group, (you will then be the admin of the group). Once created, you will then be able to add the other members of your group, although you will have to watch an ad to add a member… The final step once the members are added is to hit the 'Raffle' button and the app set your secret Santa into motion.
---

10. ElfYourself

Last, but very much not least, ElfYourself. This one is perhaps our favourite of the lot and allows you make a short video featuring dancing elves that you can super impose faces of family or friends on to. You can add up to five faces so some may have to miss out but you could always make another video.
When you open the app, you will be greeted by an ad but you have the option to close it immediately and continue to the app where you will see 'Today's Free Dances'. When we entered the app these consisted of 'Beach Party' and 'Taking Care of Christmas' but we imagine these might change and alternate. Hit the 'Get started' button and add your five faces and create your very own elf video.