Ten fun websites to get Children in the Christmas Spirit
If you are here to see the videos of the GWS team in our Christmas attire, please click here.
Whether you have children of your own, Godchildren, nephews or nieces, these websites promise them hours of fun over Christmas. And you'd better not quote us on this, but for the young-at-heart adults among us, at least some of them can be a lot of fun too! Although quite a few of them are American in origin, and present American-style Christmas traditions such as elves, which are not traditional in the UK, and Santa Claus instead of Father Christmas, we think that's easily forgiven for the games, music and graphics. So get stuck in and explore, and see what you think the children in your family might enjoy.
1. Santa Tracker
Google Santa Tracker welcomes you a delightfully childlike full-screen animated homepage redolent of nostalgia for the spirit of Christmas in more carefree times. The snow-decked urban scenary is bright and clear, the children beam with joy as they clutch snowballs, cycle, skateboard and ski, and easy-listening music sparkles in the background, supported by a simple electronic bassline reminiscent of home computer game soundtracks of the 1980s.
Clicking 'Play' transports you to an indoor scene, where you are invited to click a further 'Play' icon. This opens up an audio translation utility in which you are invited to listen to translations in a randomly system-selected for the words for Santa Claus, Ho Ho Ho, Season's Greetings and Happy New Year in turn. But closer inspection reveals a drop-down menu that allows you to select the destination language from a range of 23 real ones, plus the mysterious Elvish.
Returning to the snow scene by pressing 'Home', as there is nothing further to do in the indoor scene, you will find that the play button is still in place, but if you click it a second time, it instead takes you to an animated film sequence, following which a puzzling message of 'Game Over' apears although no game has been played and no interactive elements were present in the video.
Beneath the 'Game Over' caption are options to play two actual games, however. The first of those presented at my visit was called Gumball Tilt and the second Santa Selfie. After playing Gumball Tilt, I was again taken to the Game Over screen, whereupon two new game choices appeared. This suggests that there are at least four games available, perhaps many more, and you might need to keep returning to the 'Game Over' screen to see what is available until you have tried them all to your satisfaction.
If ever you click 'Home' you will find the Play button adopts a new function. At my third visit, it gave a choice of Dance Class or Dance Freestyle, two different applications that are not part of the previously encountered game zone. This potentially suggests that the function of the main Play button is random and that you may need to keep returning and trying it again until you get the applications you enjoy the most.
---
2. Virtual Santa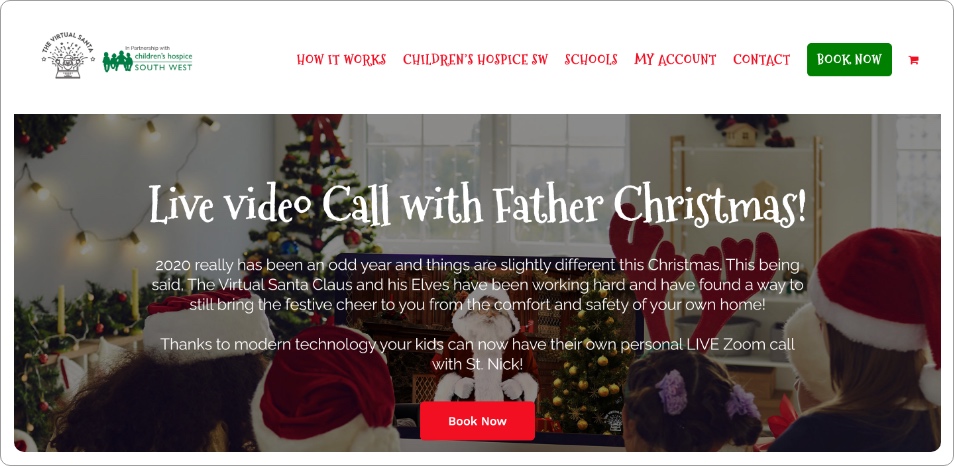 Virtual Santa is a utility that allows you, for the payment of a fee, to book a live Zoom chat with an actor playing the role of Santa Claus. This is aimed at children. Prices range from £25.99 from December 12th to 20th through to £49.99 on Christmas Eve. We have not tried this as no willing child participants were to hand, so cannot vouch for your children enjoying the experience, but present the service here for public information purposes for those for whom it might seem a fun and magical idea.
The company running the service has undertaken to donate 10% of its fees received for these Christmas Zoom calls to Children's Hospice South West, a charity well worth supporting, although we presume that the other 90% goes to the website creators and actors who carry out the calls, and no representation is made that it is a non-profit venture.
---
3. Northpole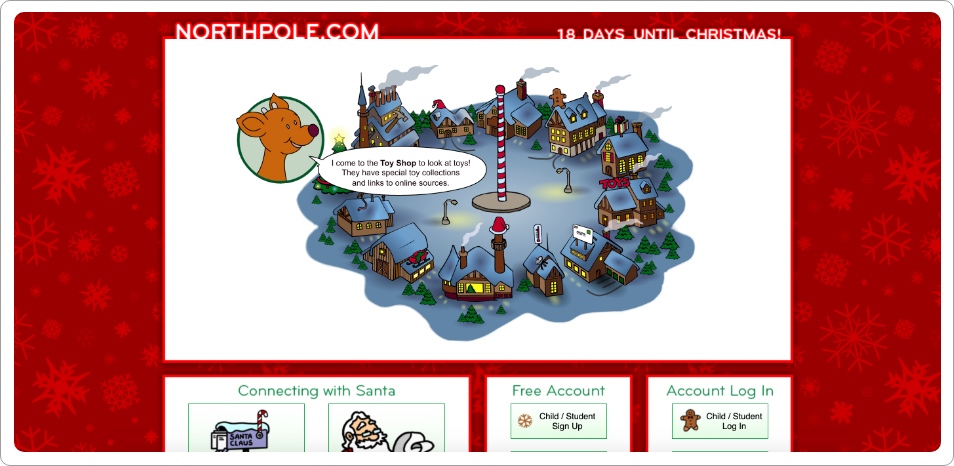 Northpole is a website run by a company of the same name based in Georgia, USA, that claims to have been operating since 1996 and offers free fun Christmas content aimed at children. It is supported chiefly by Paypal donations.
The home page presents a stylised, cartoonish animated picture of a snowy village on a cold, windy day. each of the buildings is clickable, and hovering over it gives you a text preview of what to expect when you get there.
Once you have made your selection and reached any one of the inner pages, accessing the other activities is then relatively straightforward via a menu at the top of the screen, which labels them with icons and the following headings: Craft Cottage, Workshop, Santa's Den, Gift Shop, Mailroom, Clubhouse, Reindeer Barn, Kitchen, Elf Pal Academy, and Elf Blog, although from the inner pages it is not clear what any of these means until you click on it and all is explained. We presume that the idea is for children to discover each new section on their own and for an element of surprise to be retained beforehand, although the explanations from the home page were a lot more transparent.
---
4. Norad Santa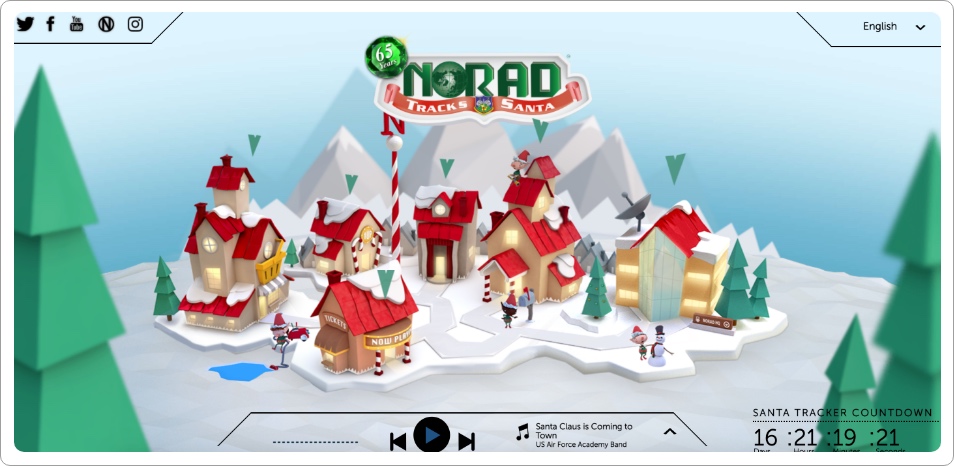 The website at noradsanta.org is puzzling on first encounter. Another pretty if cartoonish idealist snowy village scene appears before you, the houses all with Santa-red roofs. Above this, you see 'Norad tracks Santa' and a '65 years' badge. But who or what might Norad be, and to what does the '65 years' claim refer? It can't be Santa's age, and it can't be the age of the website, surely! This remains unexplained on the home page. Perhaps the assumption is that if you are visiting the site at all, you'll already have heard of Norad, but we hadn't, and feel perhaps a summary or explanation of the purpose of the site might have been advantageous.
The only call to action on the page invites us to 'Come back December 24th to track Santa's flight around the world'. Again, what this means is not clear other than that some kind of an update to the site will go live on Christmas Eve. It also gives an American phone number including letters, thus probably unaffordable for those outside the United States and unavailable to all who do not have letters on their telephone dialling keypads.
However, closer inspection reveals that there are some interactive elements to the home page. At the very bottom, partly concealed under the Cookie bar at first, is a play button that launches a charming old-style piece of instrumental Christmas music, well worth a play. And further up, hovering the mouse over the different buildings in the village picture reveals that some of them are clickable and promise to take us to hidden features called, respectively, 'Gift Shop', 'The Arcade', 'The Music Stage', 'The Library', 'Norad HQ' and 'The Theater'. It is only when we explore these options in turn that the website finally comes to life.
Clicking 'Gift Shop' presents you with a fierce warning that you are about to be taken to an external site, but 'The Arcade' turns out to be the repository for a host of games, one more of which is unlocked on each successive calendar date during December - it is presented as though an Advent Calendar of games, but fortunately you are still allowed to play those unlocked on previous dates even if you did not check in then. A further tab promising Holiday Activities takes you to a screen that links you through to a choice of two external websites each offering their own activities, as well as a Youtube video.
'The Theater' presents a choice of five further Youtube videos, while 'The Music Stage' is dedicated to a Christmas music audio player, giving you the choice of 37 songs. 'The Library' offers a selection of light reading on Christmas traditions and a few fact sheets. Clicking on Norad HQ finally reveals hints as to the organisation behind the website: it would appear to be an agency of the United States government responsible for aspects of defence - although again this is not made fully clear, with the blurb stating 'Homeland defense is our #1 priority' but without specifying which country this refers to. The clickable elements on this page then discuss some of the activities undertaken in the interest of defence and would appear designed to educate children on the functions of the US military.
---
5. ElfYourself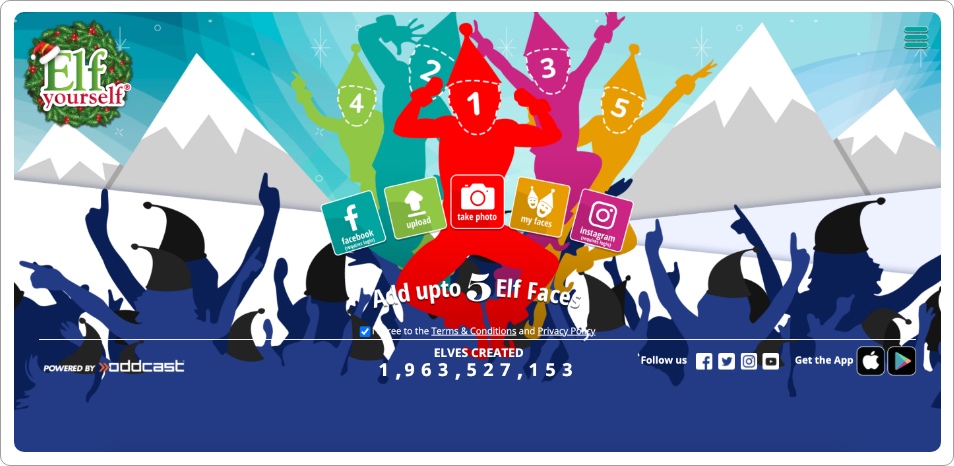 Elf Yourself is another Christmas website that gives minimal instructions on first encounter. The only instruction is 'Add up to 5 Elf Faces'. But this is not clickable. Instead, you have to click the smaller tab 'Take Photo' located above to get the process underway. However, this brought an error message when we tried: 'Could not access webcam'. Evidently it is required to have a webcam connected and turned on before you click 'Take Photo'. Perseverance eventually brought us to the realisation that you are supposed to upload five photos of faces to be superimposed on the bodies of cartoon elfs that are then shown dancing in a video you can upload to Youtube. You can see our video below.
Watch our Christmas House Party Video | Watch our Christmas Hip Hop Video
---
6. Christmas HQ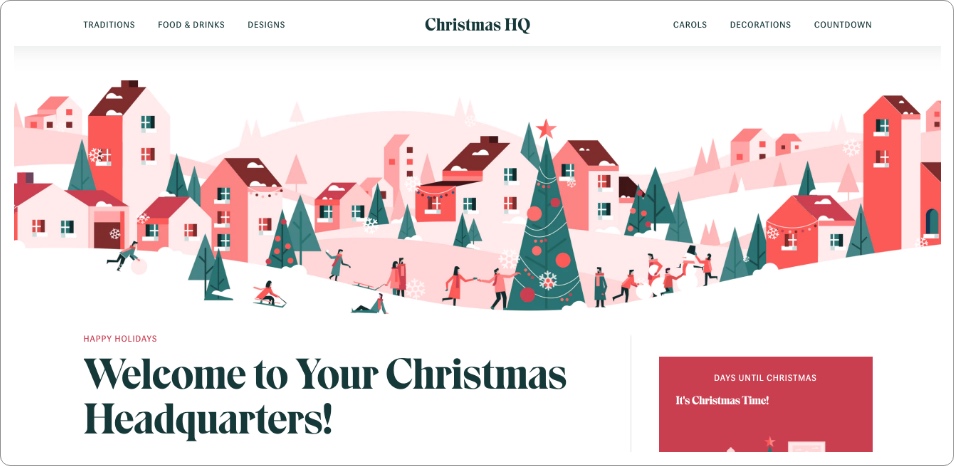 Christmas HQ is a more traditionally designed website, with clear instructions right from the home page as to its purpose, which is to allow you to access various free Christmas-themed resources including downloadable artwork, recipes, and articles on Christmas traditions, carols and decorations, all of which are easily accessible from text-form navigation buttons. An animated snow-falling effect graces the upper portions of the home page, but otherwise it is less graphically fancy than most of the earlier sites we explored, but simpler and clearer to navigate.
---
7. Polish Christmas Guide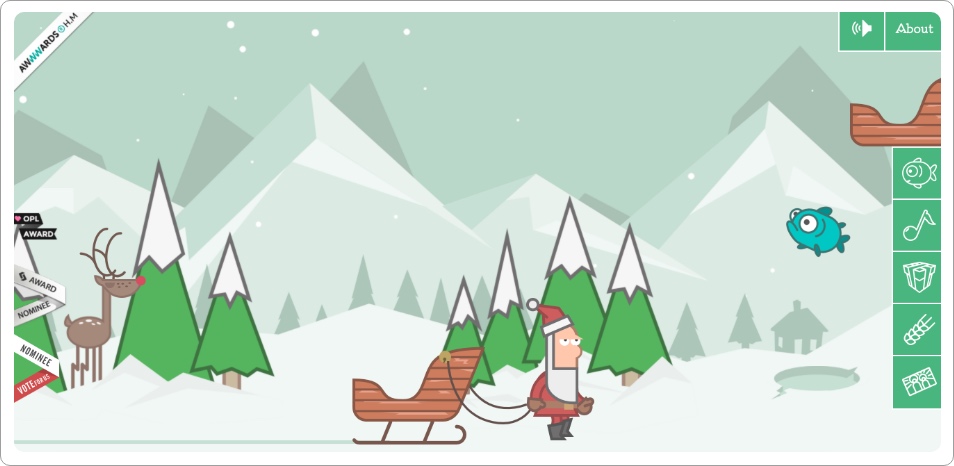 Polish Christmas Guide is a website that gives you an immersive and interactive cartoon-style animated graphical experience, accompanied by a light, jazzy soundtrack, which unfortunately is sharply interrupted whenever you click away from the window onto another tab, for whatever reason, so it seems the website demands your total attention as a condition of serenading you with its music!
Using the cursor keys, you get to move a Father Chrismas pulling a sleigh to the left and right. Along the way, you pass by various creatures and objects in the scenery accompanied by radiating red circles with the letter 'i' in the middle. Although trying to press 'Enter' on the creatures and objects themselves or otherwise to interact with them has no effect, it turns out that by clicking on each circle with your left mouse button, you can open up an information panel teaching you about some aspect of Christmas traditions in Poland.
You also encounter various other clickable icons representing gifts, and it seems you are supposed to collect all of these to complete the game, as they gradually fill up your sleigh. If you missed any before you realised what you were meant to be doing, you can always walk back to fetch them! Adding a gift to your sleigh also tends to open up a further information panel about the type of item you just added and its importance to Polish Christmas traditions.
Eventually, your Father Christmas walks into a church, where you are informed about a child helpline service and given a score out of nine for the number of gifts you collected. A replay option allows you to try again.
---
8. It's a Shape Christmas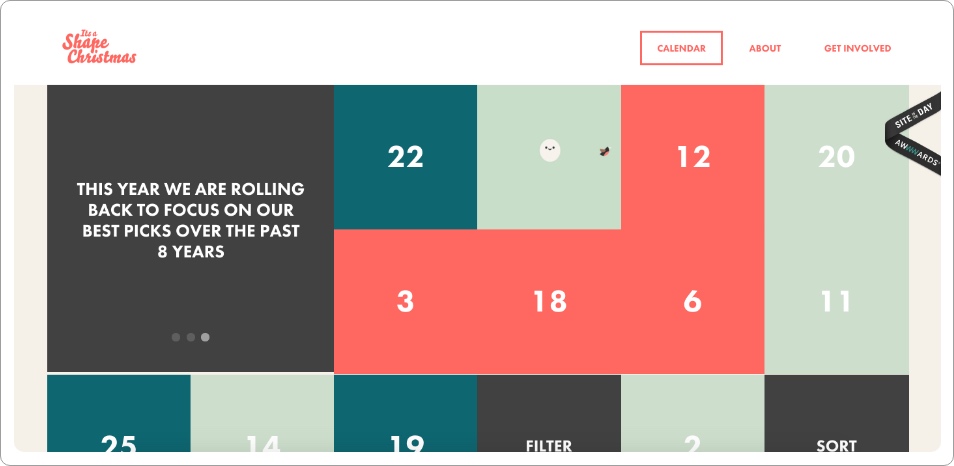 It's a Shape Christmas is a digital advent calendar themed around Christmas and Shapes. The project was started in 2011 by MadeByShape, a web design agency in Manchester. The site aims to showcase 25 creatives from around the globe as they each illustrate a shape with a Christmas-themed design in the lead-up to the big day.
Four shapes are used throughout the calendar: a triangle, a square, a circle and a hexagon. Although normally it would reveal a different piece of the calendar day-by-day in the month of December, this year the calendar looks back on its best picks from the previous eight years. This means that when you visit the site today, you are able to click on any number to reveal the design behind it.
You also have the option to sort the calendar via number (as generally the numbers are mixed) and by shape, so you can view just the designs from one shape at a time. What's more, you can watch a lovely Christmas themed animation of a friendly circle-shaped Christmas character delivering gifts. Check this one out for some fun design inspiration!
---
9. Santa Games Advent Calendar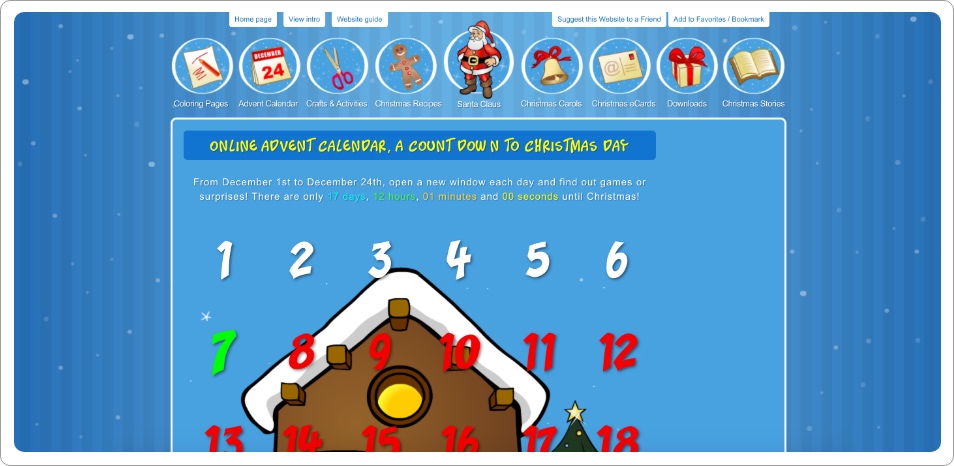 The SantaGames advent calendar site does exactly what it says on the tin, offering the viewer the chance to click a number on the calendar and inviting them to play the game to which they click through. All the numbers are clickable, but be sure to choose a date that has already passed if you want to find a game to play. Clicking on a number relating to a date that we are yet to reach will result in a 'You're too early' message, and you will need to come back to this number as the date has passed to play the game associated with this day.
We would recommend clicking on the 4th day for the Christmas Bounce Game, a fairly easy game, in which you need to ensure that the Christmas bauble does not hit the floor, while collecting the falling sweets and other favourable items. This one may be a little addictive! Enjoy exploring the many other games this site offers.
---
10. Santa's Official Reindeer Cam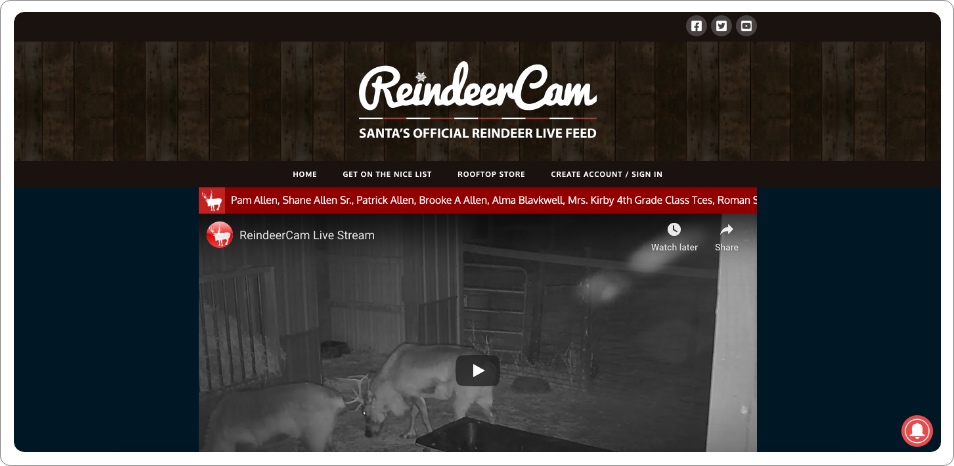 The ReindeerCam site is one for the whole family. Set up this live reindeer feed on your laptop full screen and check in with Santa's reindeer in the run up to Christmas day any time, day or night.
It's a great one for children as it gives them the chance to see the mighty animals that will help Santa deliver his presents on the night of Christmas Eve. The playing of the live feed is accompanied by some upbeat, jolly festive music to get everyone excited. The site also offers other various videos of Santa popping into the barn to say hello to the reindeers. This one will definitely up the Christmas magic this year, especially if it is not possible to visit Santa in his grotto.