In this article, we'll take a look at the ten most popular content management systems today, showcasing the market-leading platforms for building websites.
(This was first published in 2019, and has been updated in January 2023 to revise all statistics in the article where possible, using data from the end of 2022.)
What is a Content Management System?
A content management system is a system that facilitates the management of the content of a website, including its appearance and navigation as well as the individual pages, posts, documents, images and other media stored in it.
While users of the Worldwide Web have access to the public-facing content of every public website, only webmasters and approved administrators of particular sites have access to their content management system, which allows them to add, remove or update content.
Content management systems have liberated website owners from many of the technical aspects of updating HTML (Hypertext Markup Language, the script that web pages are built with) or other code whenever changes need making to their website, putting the ability to update a website into the hands of almost everyone.
The cost saving in terms of being able to make simple updates in-house rather than asking your web design agency every time you want a straight-forward change made to your website can be considerable.
Does every website need a Content Management System?
No, but it makes website creation much easier and more flexible if your website has one!
The alternative to a CMS is to directly upload individual files via FTP, which was how most early websites operated. Every web page then would be separately created as a static HTML page and uploaded to the public HTML folder of the website's files directory. If it was desired to modify a page, the whole page would have to be replaced by being re-uploaded thus.
According to data on CMS market share available at https://w3techs.com/technologies/overview/content_management/all, 32% of websites today (down from 34.7% in 2019) still do not use any standard content management system at all, but this does not necessarily mean that these sites are all vintage sites from the early days of the web.
Some may instead use proprietary content management systems that are unnamed or unavailable to other users as commercial products. This could be for reasons of security or to meet highly specific corporate or organisational managerial needs. At least as early as 2000, many web design agencies began creating their own content management systems, and this is something that continues to take place today, though now that very capable and free content management systems such as WordPress and Drupal are available, the reasons for doing so have evolved.
What Content Management Systems are Available?
There are hundreds of different content management systems available today, most of which individually have a small share of the overall market.
The most up-to-date sources indicate that only six CMSes have a total market share of 1% or more as of January 2023.
In this article, we present the Top 10 in descending order of market share among all live websites (including those that have no CMS), based on up-to-date data reported by https://trends.builtwith.com. (The selection was based on the Top 10 when this article was first published; we've brought the market share percentages and live website figures for each of them up to date, rather than updating the list. A post-script has been added, mentioning some CMSes which would be in the Top 10 according to reports at https://trends.builtwith.com/cms/traffic/Entire-Internet and Websitesetup.org.)
We shall look at what sets each of the ten featured CMSes apart, and which platforms are free of charge and which ones require payment.
---
1. Wordpress (free, with paid add-ons available)
CMS Market Share: 43.1%
(Wordpress.org is the main downloadable version; Wordpress.com is the hosted version mainly used for blogging)
With almost half of all websites still using it, and its nearest rival having less than one sixth of its global market share, Wordpress is unquestionably the dominant force in the industry today. According to Builtwith.com, which tracks the usage of all major content management systems, it was responsible for over 38.5 million live websites by the end of 2022.
So where did it come from, and how did it come to be this popular?
Wordpress was launched in May 2003 as an evolution of a blogging interface called b2/cafelog. Initially, it was heavily oriented towards blogging, hence the name, indicative of the printing of words.
From the release of version 1.2 in May 2004, open-source plug-in architecture was supported. This allowed third-party developers to add new functionality to the platform, limited only by their imaginations and programming ability.
From version 1.5, launched in February 2005, a flexible system of interchangeable preset page layout and style configurations called 'themes', with separately customisable elements for each portion of the overall page, was introduced.
In 2008, the administrative user interface was completely redesigned with reference to a usability study, and the automatic installation of plug-ins from the dashboard without ftp became supported, increasing ease of use.
By 2013, Wordpress had become the world's leading CMS, a position it has continued to build on since.
Because of its ease of use and the ready availability and ease of installation of a vast range of useful plug-ins, Wordpress is strongly recommended as a CMS for those who want to be able to do their own updating without sophisticated technical knowledge.
However, a major recent change in the basic system for editing pages has frustrated many users, who complain that it makes creating and editing the main text and image content of pages more difficult than before.
The new system, called Gutenberg after a famous printing press introduced in the mid-15th century, requires each page to be composed of separate blocks given over to either text or images, complicating the insertion and arrangement of content within the page.
The Gutenberg interface has also radically reduced the number of familiar tools available in the 'What You See Is What You Get' (often known as WYSIWYG for short) editing view and made accessing the HTML editor, which experienced web content editors tend to find to be essential for fine control over coding, more difficult than previously. Previously it appeared as a simple button in the toolbar above the editable text window; now it is necessary to click a vertical arrangement of three dots in the top right corner of the screen and then select 'Code Editor', and even then, the resulting view is not a full HTML editor so much as a text editor with limited HTML tags displayed.
A further issue is that switching from the new 'code editor' view back to the WYSIWYG view now frequently results in portions of code being rewritten or flagged up as unsupported. Since maintaining the integrity of HTML code as written is an essential requirement of most experienced web developers, this is a serious problem. Saving pages that have been edited in the WYSIWYG view is also unreliable when it comes to formatting, with added line spacing frequently being removed at the point of saving.
At the time of writing, the average user rating for the Gutenberg system was only two stars, with 1983 one-star reviews contrasting with only 519 five-star reviews. A representative recent review from an experienced Wordpress editor frustrated by the drawbacks of the system is found here.
Some users have deliberately avoided upgrading to the latest Wordpress release in which Gutenberg is the standard interface, after finding it too troublesome to their workflow. It remains to be seen whether the user experience limitations of the new interface will be ironed out in future releases or whether established users will begin to desert the overall platform in favour of others. A few third-party developers have already begun to offer plug-ins claming to disable Gutenberg, but it remains for these to be stress-tested by us here at GWS.
Nonetheless, WordPress and core versions of many plugins remain free of charge, although some third-party themes and plugins are charged for or have a premium version that requires a subscription. WordPress is one of the easiest-to-use CMS platforms today.
Wordpress also supports e-commerce functionality through free third-party plug-ins like WooCommerce.
---
2. Wix (paid)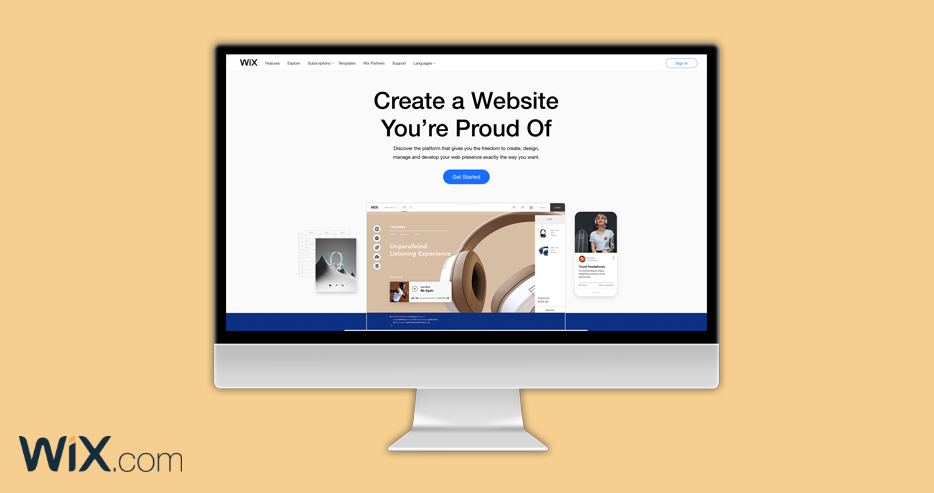 CMS Market Share: 9.7%
Based in Israel, Wix has positioned its CMS in the market as a competitively priced rival to Squarespace (see below), allowing non-technical users to develop their own websites using drag-and-drop positioning of elements. Varied plug-ins are provided both by Wix and by third-party developers, some of them free, others requiring separate payment.
Founded in 2006, Wix has been expanding rapidly, and had reached 3.5 million users worldwide by 2010, claiming 50 million by 2014, and 150 million in 2019. The number of websites supported by Wix in 2022 has been reported as just over 8.5 million.
Wix subscriptions start at just £3 per month for an advertising-supported website limited to 1 Gb bandwidth and 500 Mb storage. The third-party advertising would not be ideal for a typical business website, but this facility might be adequate to give a small business a basic web presence.
The plans recommended for business range from the 'Unlimited' plan at £8.50 per month, offering unlimited bandwidth and 10 Gb storage, to e-commerce plans integrating online payment facilities, priced from £13 to £22 per month depending on storage requirements. These prices compare favourably with Squarespace and Shopify prices, so customers in the market for a simple e-commerce website should consider using Wix.
---
3. Shopify (paid)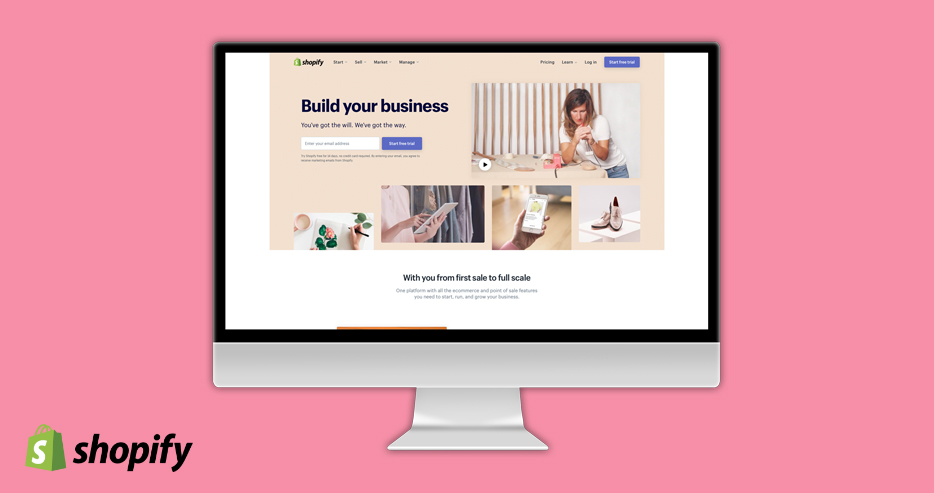 CMS Market share: 5.6%
Shopify was launched in June 2006 as a dedicated CMS for websites serving as online stores. It has enjoyed rapid growth in the 2010s, and was believed to power just under 4.5 million websites worldwide in 2022.
Online shopping, or e-commerce, as it tends to be known in the industry, has enjoyed continuous growth, and largely at the expense of bricks and mortar stores, so e-commerce-oriented CMSes are arguably even more important to the global economy today than they were at the time of Shopify's launch. Indeed, in the United States, online sales exceeded physical store sales for the first time in 2019.
Shopify is designed to be easy to use, and is a good match for small to medium-sized shops who want to maintain and manage their own inventories online.
For the most sophisticated online retail needs, the greater customisability and flexibility offered by Magento tends to be preferable.
But where there is no technical resource or the e-commerce facilities needed are more standard, the usability and lower maintenance needs associated with Shopify are likely to be attractive, and it is the most popular e-commerce-oriented CMS today.
Shopify comes at a price in the form of a monthly rental, starting at around $30 per month. So while it is easy to use, it is not free (however, note that hosting costs are included), so it would potentially be unsuitable for some niche hobbyist shops such as craft shops and small second-hand bookshops set up by private individuals that make only occasional sales do not sell enough goods or services to cover the marginal costs and remain profitable.
---
4. Squarespace (paid)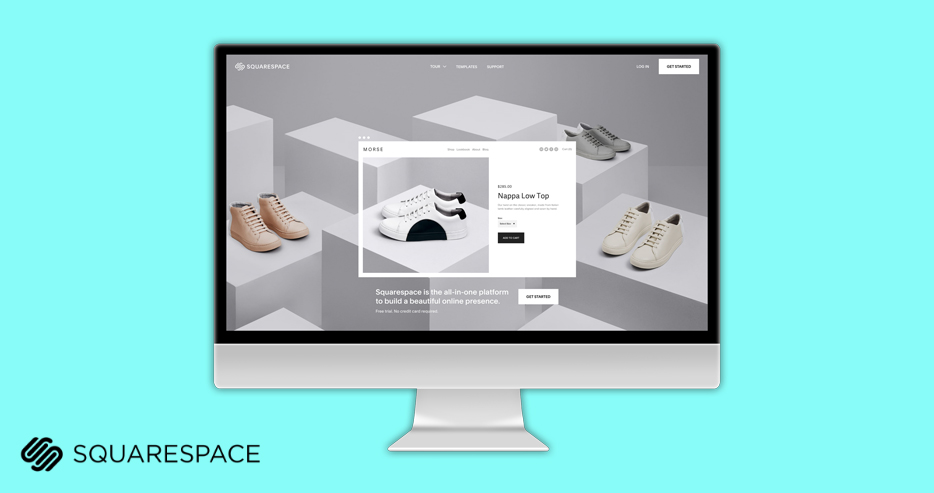 CMS Market Share: 3.6%
Squarespace started life as a student project used to host blogs. Incorporated in 2004, it had grown into a large company with over 500 employees by 2015. In 2022, it was believed to support just under 3.08 million websites worldwide, of which over 162,000 in the UK.
E-commerce functionality was added in 2013 and extended the following year. Squarespace shops are relatively limited in their flexibility and functionality, and generally would not be used for substantial or complex e-commerce sites.
The Squarespace interface is designed to be user-friendly. In recent versions, it is based on preset design templates into which elements called widgets can be dragged by the user. Image galleries are also supported, and the visual results can be modern and stylish.
Coding ability is not needed to maintain a Squarespace website, but in the final analysis functionality will tend to be more limited than that of a website made using WordPress or Drupal.
Squarespace is a paid-for service based on a rental model, starting at £10 per month for a personal account, £15 per month for a business account or £20 per month for a 'basic' commerce account, extending to £30 per month for an 'advanced' commerce account. This pricing puts it into similar territory to Shopify when it comes to e-commerce stores, and can be compared with alternatives like Shopify and Wordpress with WooCommerce.
---
5. Joomla! (free)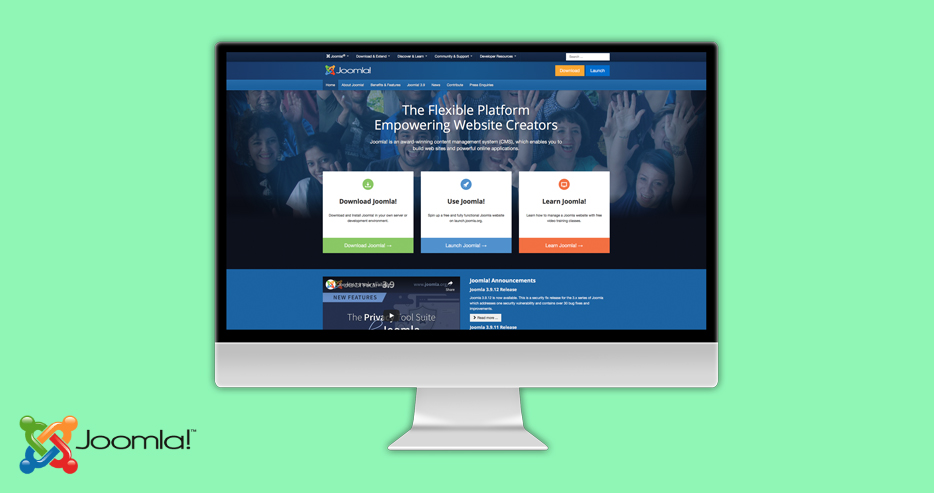 CMS Market share: 1.6%
Joomla was released in August 2005 as an evolution of an open-source CMS called Mambo that was first launched in 2002. The original Mambo team had fractured in 2005 after one of the founders left the project.
Based on the use of predesigned templates for the different portions of each page, Joomla is nonetheless a flexible system, with numerous add-ons called extensions being installable by the user. In the late 2000s and early 2010s, it was a popular choice for web agencies to develop small to medium websites in, before losing ground to Wordpress.
Joomla has traditionally used quite an idiosyncratic technical taxonomy to classify site files ('mambots', 'modules', 'components' and 'themes') and to categorise user content ('sections', 'categories', 'content'), which takes some mental adjustment to get used to.
Joomla use appears to have peaked around 2015 before falling back slightly since then. It was believed still to power 1.35 million live websites worldwide in 2022, of which just over 35,500 in the UK.
The Joomla CMS has tended since the early 2010s to be somewhat less popular than Wordpress when it comes to use of use, but continues to be the fourth most-used CMS, attesting to a well-established and loyal user base. Version 3.9 was the latest release at the time of writing, with 3.10 planned at the end of the year.
Because like Wordpress, Joomla is free, it is still one of the more cost-effective options for anyone with the patience to learn how to use it efficiently and to set it up in a way that achieves the desired results.
---
6. Blogger (free)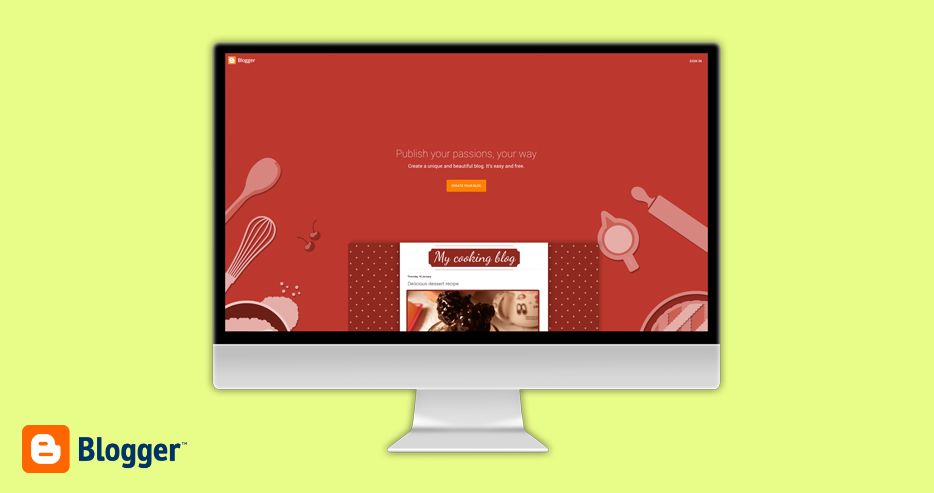 CMS Market Share: c. 0.8%
Blogger is a free platform offered by Google for the purposes of blogging.
Extremely popular in its heyday in the late 2000s, it has since lost ground to Wordpress.com and other free blogging sites, but remains one of the most popular alternatives to Wordpress for relatively simple blogging needs.
In 2022, there were just over 618,630 live websites running on Blogger, of which 9415 in the UK..
Because of its limited functionality, Blogger is not an ideal platform for businesses, but remains attractive to those who just want to write and share their thoughts with others online in a permanent space, free of charge.
---
7. Drupal (free)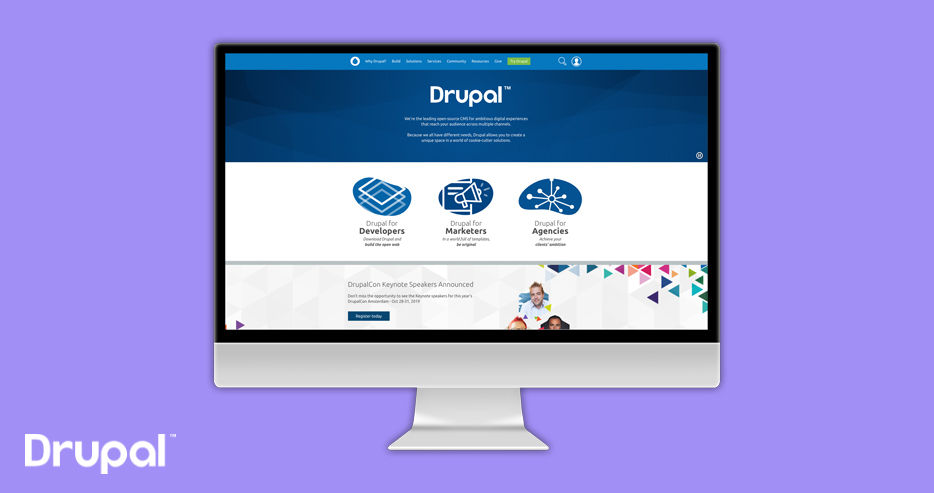 CMS Market Share: 0.7%
The peculiar name of this popular CMS has an even more unlikely history. A Dutch developer desiring to reuse the code from a website at the domain Drop.org is said to have adopted the Dutch word for 'drop', Druppel, which was then arbitrarily Anglicised into 'Drupal'.
Drupal began life in 2000 as a private message board service run by and for a group of friends at the University of Antwerp. The following year, the software became open-source, and one of the longest still-running collaborative CMS development projects took off.
Drupal usage appears to have peaked in early 2021 and has reduced slightly since then. According to Builtwith.com, it remained responsible for just over 587.450 live websites in 2022, of which just over over 23430 in the UK.
The central common codebase to all Drupal websites is known as its 'core', but this can be extended with a wide array of add-ons called 'modules'.
The setting up of a Drupal website and the installation of its modules requires technical know-how and is the province of skilled developers. As a result, Drupal is generally less appropriate for those who want to manage their own websites without help from an agency or skilled web developer.
However, once a Drupal website is up and running and you are familiar with the administrative interface, it's relatively easy to manage updates to content.
Partly because of its lower market share, Drupal tends to be less of a target for hackers than Wordpress, and so may be preferred by companies who are particularly security-conscious.
Drupal is generally a better starting point than other CMSes where custom functionality and logic is required or complex data structures are present. A dedicated Drupal developer will tend to find he or she can achieve more sophisticated results on this platform than on Wordpress.
A typical Drupal site will also produce faster results in Google page speed tests when optimised in accordance with Google guidelines than a Wordpress site will unless caching plugins are added.
The chief drawback to Drupal over WordPress is higher maintenance requirements and a more complex upgrade process between major versions. Versions of Wordpress generally are possible to seamlessly install and update.
A few websites still run on Drupal 6, which was released in 2008, and ceased to be supported in 2016. Most others run on Drupal 7, which was released in 2011, or Drupal 8, which was released in November 2015. The next version, Drupal 9, was released in June 2020, and Drupal 10 was initially launched in December 2022.
Upgrading between major Drupal versions is not a straightforward process and as with most other CMSes this requires external support from an agency or the use of a developer.
---
8. Prestashop (free installation but with paid themes and plug-ins)
CMS Market Share: c. 0.4%
Like Shopify, Prestashop is designed as an e-commerce solution. In 2022, there were just over 299,180 live websites running on PrestaShop, of which 4770 in the UK.
Having begun life as a student project in Paris, PrestaShop became a company in 2007. It has enjoyed rapid growth in the 2010s.
Unlike Shopify, PrestaShop is open-source, and the basic installation, including a responsive theme, is free of charge to the website owner. However, the company generates revenues through paid themes and plug-ins called 'Addons', and through partnerships with payments provider Paypal and with Google.
In terms of its business model, PrestaShop has more in common with Wordpress than with Shopify, Wix or SquareSpace, and it will be interesting to see how it develops in future in this competitive market space.
---
9. Bitrix  (free or paid)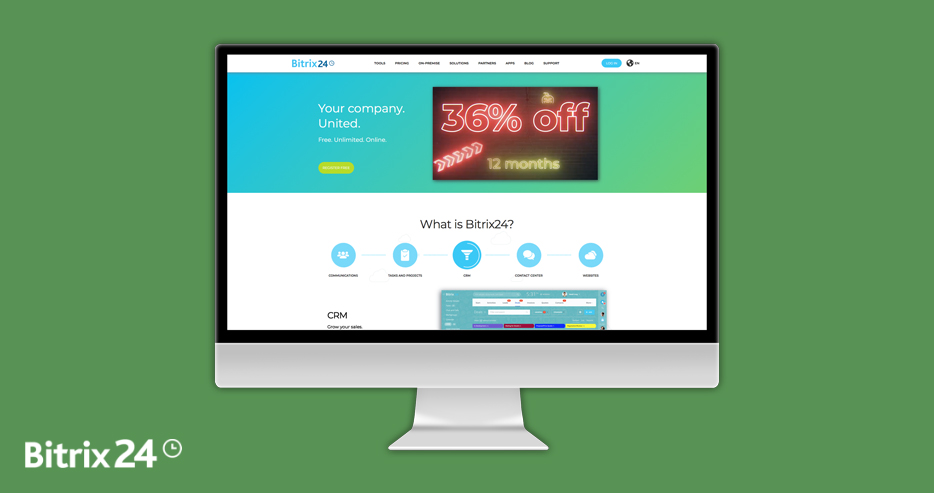 CMS Market Share: c. 0.4%
Bitrix is a company that has been in existence since 1998. It specialises in the development of collaborative Internet-based project management software for businesses and other organisations. However, it also produces a visually-based website building application that works with blocks of content, much like some plug-in visual editors that are available for Wordpress.
In 2022, there were just over 299,000 live websites running on Bitrix. It was previously reported in 2019 that just over 1,100 such sites were in the UK, although an up-to-date figure for this is not to available.
Although Bitrix has so far made a relatively small impact outside the former Soviet Union territories, it is marketed internationally, and has been enjoying rapid growth.
The free version of Bitrix is aimed at 'basic' websites, including e-commerce websites, and is limited to 5 Gb of storage. Paid versions currently start at just over 35 Euros per month, making them costlier than some other paid CMS solutions. This is a reflection of the primary orientation of the company towards the provision of a broad-ranging suite of collaborative tools. This is what you are paying for; and if that is not something your business needs, a paid Bitrix plan is unlikely to be worth the cost of subscription.
---
10. Magento (free or paid)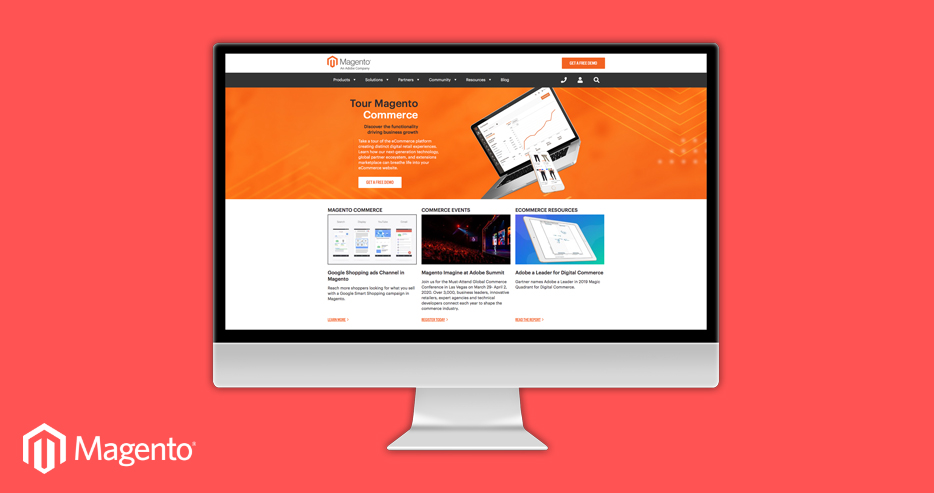 CMS Market Share: c. 0.25%
Magento is another open-source CMS aimed primarily at e-commerce. In 2022, there were just over 172,050 live websites running on Magento, of which just over 12775 in the UK.
Launched in 2008, Magento is a highly customisable and very powerful CMS for e-commerce solutions, and can comfortably support thousands of individual product listings across numerous categories and sub-categories.
However, Magento is a relatively technically demanding platform to set up and maintain: like Drupal, it requires the involvement of skilled developers.
Larger retail operations with a web development budget will find that trained Magento developers can achieve almost anything they want to on this platform. It is not accessible to general users in the way that WordPress is.
Like most e-commerce systems, Magento is a target for hackers; and like all CMSes, it has had some security vulnerabilities. Like all CMS platforms other than Wix, Shopify and Squarespace, it requires regular patching and security updates, whether you use version 1 or version 2, which was released in late 2015.
The free version of Magento, previously called Magento Community, is nowadays known as Magento Open Source, to distinguish it from paid versions called Magento Commerce, Magento Mid-Market and Magento Enterprise which are more appropriate for large, high-volume e-commerce applications.
---
Post-script: Since the December 2021 update of its figures tracking market share, Blogger, Bitrix and Magento are no longer listed by https://websitesetup.org/news/popular-cms/ as being in the Top 9. It instead gives Adobe Experience as the new No. 7 on 1.7% market share and Google Sites as the new No. 8 on 1.2%. Our main up-to-date statistical source, https://trends.builtwith.com/cms/traffic/Entire-Internet, now also lists GoDaddy Website Builder on 2.34%, Weebly on 1.2%, and Duda at around 1.2% with 993,500 live websites.
If you are currently considering which Content Management System to go for, GWS Media can help both with advice and set-up. See our Web Design Service for more information or get in touch here.
---