GWS Media's 20th Anniversary Client Profile Feature
Bristol Cathedral is one of England's great medieval churches and has been a place of daily prayer since the twelfth century. It was founded in c. 1140 as an Augustinian Abbey by a local citizen, Robert Fitzharding, who later became Lord Berkeley. It has been a prominent feature in the history of Bristol over the centuries since.
The Bristol Cathedral community is made up of a wide range of people, including members of the regular congregation who worship, paid staff, volunteers from across the city, singers, musicians and external partners and donors.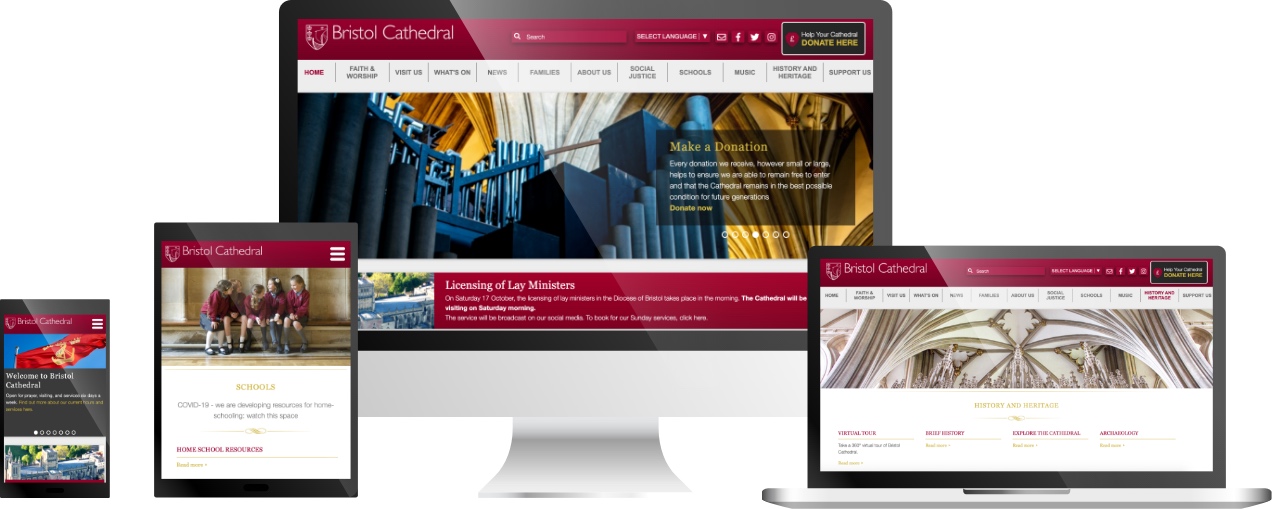 The general management of the Cathedral is set out in formal mechanisms from the National Church.
Since 2012, we have worked with the Cathedral providing hosting for their website and consultancy on related issues, including security. We have also worked with them on a multi-year project to replace their existing management systems with a CRM system from Access, helping with data import and configuration, and we helped advising on procurement of a new website when the previous one reached the end of its life.
Bristol Cathedral has been an integral part of the city for almost as long as it has existed, and will no doubt continue to be at the centre of new developments in social and environmental justice. Demonstrations and rallies are frequently held on College Green right next to it, including the Occupy protests in 2011 and the famous Greta Thunberg speech at the Bristol Youth Strike 4 Climate in 2020.
You can view the Bristol Cathedral website here.
You can also take a virtual tour of the cathedral here.