In an effort to take our minds off the onset of winter, the GWS team has been reading more newspapers than usual (online of course!).
Recently, we were intrigued to see that Google Maps has become embroiled in another political contretemps - as Nicaragua allegedly tried to claim some of Costa Rica's land by crossing the border and raising the flag in an area marked by Google Maps as Nicaraguan territory - though officially, it is Costa Rican. Google was forced to immediately update the map and make a statement.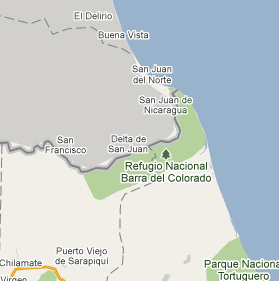 The disputed Costa Rican border in Google Maps

The Latin America director for Google, Daniel Helft, remarked publicly:
"Although Google maps are of high quality and Google works constantly to improve and update existing information, in no way can they be used for the military decisions between two countries."
Now, both countries have placed Google in the middle of the spat by sending letters urging Google to re-draw the map to their specifications.
The situation is, as we write, still not resolved.
This isn't the first time Google Maps have created political controversy, of course.
In 2009, Google caused turmoil in Japanese society by bringing some 17th century maps into circulation and overlaying them over modern maps of Japanese cities.
The maps related, however, to caste systems which have caused a strata of society called 'burukumin' to be persecuted and reviled by mainstream Japanese for 400 years- and overlaying the maps meant those living in what the maps labelled, in a rough translation, as 'scum town' could be identified.
The Japan Times notes that the historical maps are so sensitive that even museums are cautious about their display, and that any portrayal of the maps is always accompanied by historical explanation – 'a step Google failed to take'.
In 2008, the small Israeli city of Kiryat Yam sued Google for libel after a Palestinian civilian named Thameen Darby went on Google Earth and tagged Kiryat Yam as the site of an Arab village destroyed by Israelis in 1948.
The unimpressed officials of Kiryat Yam, instead of suing Darby, decided to hold Google responsible.
Apparently, Google has acquired a presence in world politics - and with that presence comes a global audience which holds them accountable not only for the information they provide, but for its political implications.
The Washington Post's 'Agnostic Cartographer', John Gravois, has been keeping track of Google's unintentional forays into geopolitics, including the incident where the corporation re-labelled the disputed Indian territory of Arunachal Pradesh as Chinese.
In a thoughtful piece, he compares the imperious golden era of European map-making with the 21st century exploits of Google Maps:
"In its own way, Google may be just as imperious in its approach to knowledge as the nineteenth-century European powers were in their approach to territory. The corporation simply wants to have searchable dominion over as much information as possible[...]By filling the information vacuum left behind by the old state powers, Google has also made it inevitable that it will sometimes be confused for them."
Next time you check out your nearest bus station or your holiday destination using Google Maps, take a moment to consider: do you agree with Gravois that writing a map is tantamount to having power? Are all maps politicised?
If so, the creator of one of the most visited online mapping service worldwide - Google - may be more powerful than you think.