How can LinkedIn benefit your business?
Do you use LinkedIn for Business?
You might have heard colleagues or friends discussing work, and been confused (but intrigued) when they said something like:
"I found him on LinkedIn, and it turned out he did his MBA at the same university as my boss - they're both in the alumni group, so she sent him a connect request and he's working with us on the next event / project / campaign."
The mention of meaningful business results, of course, gets anyone's attention - results which are often hard to quantify in social media networking.
So what is LinkedIn, and how can you use it to best effect?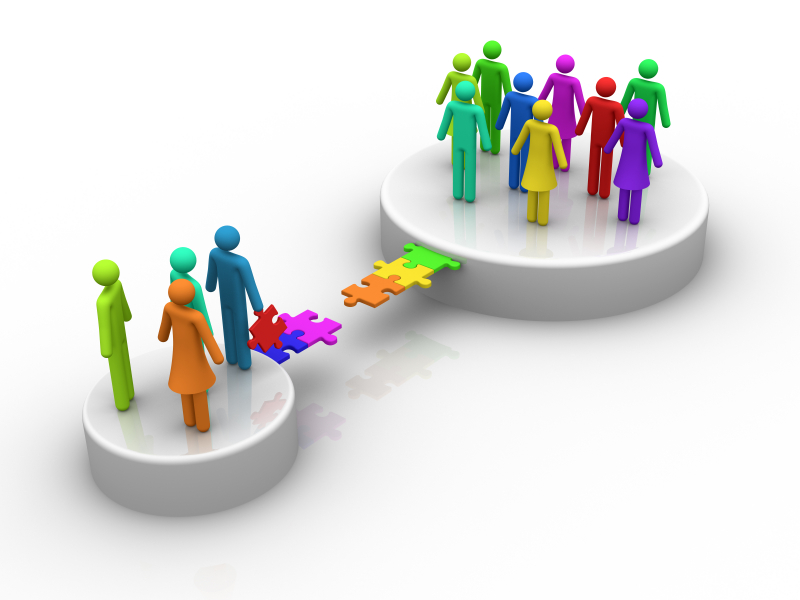 LinkedIn, the professional networking site, has seen its profits soar and its membership base flourish since its official launch in May 2003.
Described as the social networking platform 'for grown-ups' , the site has attracted over 80 million members in over 200 countries, with a new member joining every second.
LinkedIn's aim is to allow people to re-connect with colleagues and classmates, and discover inside connections when looking for a new job or a new business opportunity, by creating a profile summarising their professional expertise.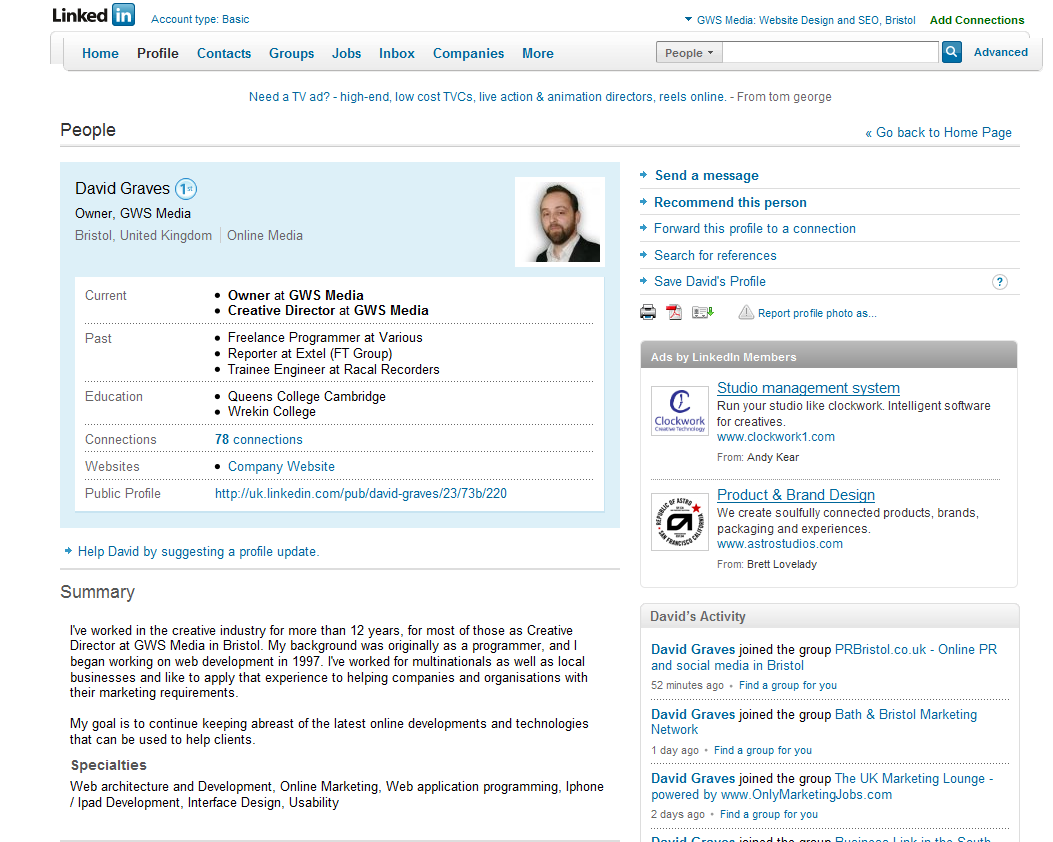 An example of a LinkedIn Profile.
Once they invite trusted contacts to connect to them, a user's network grows rapidly, to include not only their own connections but also their connection's connections and the people that they know.
The premium versions allow for more 'cold' contacting, and allow users to access user profiles outside their networks.
These tools can be invaluable for those like recruiters, fundraisers, investors, and any other business/profession which can benefit from accurate information about others' professional background, interests, and skills.
Within businesses, use of LinkedIn has been growing steadily, and most business contacts of yours probably have a profile on the site.
The benefits of LinkedIn are not limited to connecting with colleagues and recruiting experienced professionals.
LinkedIn Groups
The Groups feature, for example, is a great way to engage potential customers online.
Joining or creating groups is quick and easy – simply think of a name, add a logo and display the group in the Group Directory and on members' profiles
Once it has been created, promoting the group is equally straightforward.
Here are a few things you can do to increase the visibility of your group:
Create a custom webpage for the group on your website – for example, www.yourbusiness.com/yourLinkedIngroup. (This has the added benefit of acting as a link for the group itself which you can publicise, since LinkedIn currently does not support customisable URLs - let's hope this function is added soon.)
Promote the group on your blog, email newsletter and social media networks.
Invite co-workers, past colleagues, customers and leading industry experts to join and engage in your discussions.
Import your blog RSS feed automatically to the News section (but only if it's relevant to the group).
Linking to LinkedIn
You can also promote your business more directly by adding a link from your website to your LinkedIn profile.
LinkedIn allows you to list up to three websites, so you can link to your Facebook and Twitter pages too.
Connect your Twitter and LinkedIn profiles, so that your Linkedin page remains updated with your latest business activities.
Other Features of LinkedIn
Other features that can be utilised include 'Recommendations', which allows you to request endorsements from colleagues, partners and clients.
By answering questions on LinkedIn Answers, you can interact with other individuals and businesses and establish yourself as an authority within your industry.
Every question you answer will appear in the Network Updates feed, which is viewable by all of your connections.
If your answer is selected as the 'best answer' to a particular question, you gain 'expertise points'.
By connecting with start-up professionals and participating in Answers, status updates and group conversations, you may even find experienced professionals who can help your business.
You can also research individuals and organisations to find connections, which may give you leverage to close a deal or secure a partnership.
LinkedIn is invaluable for corporate or charity fundraising, as this success story shows - seed investors often connect with start-ups on LinkedIn.
Last but not least, LinkedIn can be used as a way to improve your Google ranking.
Make sure that when you create your public profile you have selected the 'Full View' option on the 'Edit My Public Profile Settings', and edit the URL of your public profile so that it includes your actual name.
Tips for Using LinkedIn to Business Advantage
Utilised fully, LinkedIn offer endless opportunities to promote your business. Here are a few key things to remember when getting started:
Use your account regularly. Don't simply add and accept connections - actively engage with other users to strengthen your relationships.
Make use of the various functions that allow you to demonstrate your expertise in a particular area.
Make sure that your profile is 100% complete to increase your visibility, and ask for recommendations from business contacts.
Optimise your efficiency by downloading the free tool which allows you to link your Outlook contacts with your LinkedIn contacts - get into the habit of taking time each week to build your network.
Investigate the other tools that LinkedIn offers; you can use it to recruit by posting free vacancies, for example.
How have you used LinkedIn to best effect?
Comment on the blog, or tweet @gwsmedia, and let us know your success stories.