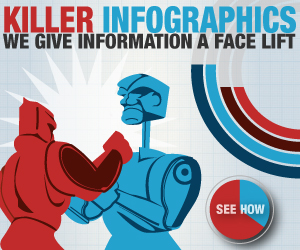 What are Infographics?
Too often, data is presented in a monotonous, dense way that makes it difficult to take in.
The infographic uses a combination of design and visual representations alongside information to make it fun and digestible.
This blog post is a celebration of the infographic, and its versatility and usefulness in a time when design and image are of utmost importance.
As with any information about a specific subject, infographics have the ability to deliver topical and relevant data for that particular time.
However, the creative and design elements of infographics give them the power to stand out from other information sources, by using striking and inventive presentation.
Examples of Infographics Analysed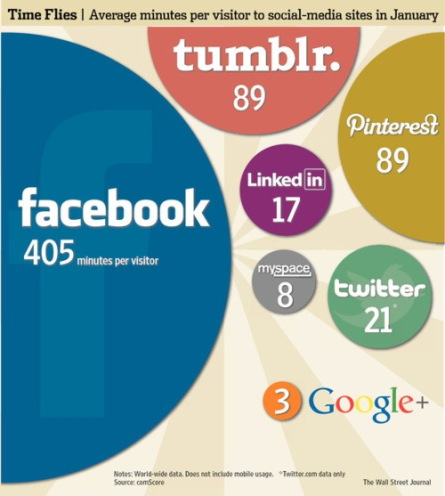 This infographic, which depicts the average amount of minutes per visitor to social media sites in January, instantly shows that the social media site that people spent the most time on was Facebook, without the need to concentrate on numbers, percentages and figures.
This infographic also shows the importance of visual branding, as the colours used, as well as the typefaces, help create an immediate link to the company in question.

Another example is this infographic, which shows the social media impact of the Royal wedding.
This infographic was very topically relevant and interesting when it was released, soon after the wedding took place.
It combines information about the wedding as well as further embedded social trends, such as the dominance of social and digital media as a way of people showing what they care about.
Social Media Sharing of Infographics
Infographics are a very shareable medium.
Recently this has been largely happening on Pinterest. Take a look at some of the infographics we've pinned.
However, infographics are not just a phenomenon on Pinterest: they are well suited to many other social marketing media such as Twitter, Facebook, and blog posts; and they act as a welcome change from dense sets of information.

Another example of this is the above infographic from coolinfographics.com which explains how the unprecedented popularity of the app 'Draw Something' was addressed with appropriate technologies to enable it to cope with its own popularity.
Draw Something was a massively talked-about app. However, this infographic makes the information about the App's popularity easy to digest and understandable to a wide audience.
Conclusion
Overall, infographics are not just about creativity and imaginative design (and a great showcase for the skill of designers).
They are also a brilliant way to utilise the popularity of and people's visceral response to visual mediums to get across complex information.
Infographics are a great way of generating new and relevant content for companies which actively use social media and have a growing place in online marketing.