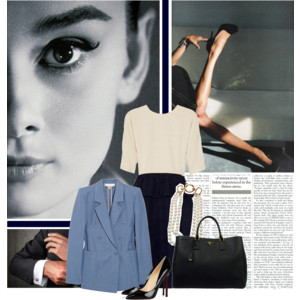 A Polyvore board - a specialised social site to share style inspiration
There has been lots of coverage about Pinterest this year, and with good reason - not only is it a rapidly growing community with a huge impact on online sales, but on the blog we've already looked at how valuable this up-and-coming social network can be for businesses for a number of reasons.
There has also been discussion of how Pinterest potentially represents a shift for how the social web looks and operates, emphasising the power of the visual.
This week we want to explore that shift a little further and think about similar sites that target a particular sector; as online marketing becomes increasingly crowded, it's worth being as targeted and specific as you can be whilst maintaining a presence on general sites too.
Pinterest is a general site, with various categories that people can share their interest in.
The sheer range can make it difficult to make an impact, unless you come up with something niche and quirky (like Drew Hawkin's Board of Man idea).
Alternatively, if you're finding Pinterest a really productive way to engage a community, you might want to capitalise on its strengths within a more specialised market.
Either way, there are other social networks out there that are worth considering as part of your online strategies.
Online Marketing - leveraging a community
Not so long ago, targeting a specialised community might have involved finding the right community forums for your industry and participating in discussions.
In many ways, social media is a more sophisticated and visually slick version of these, with more complex and diverse ways of sharing information than simply commenting on a thread.
While Pinterest might be dominating headlines, there are specialist sites that engage communities through the same kind of visual sharing, and if you're selling online, targeting these can be effective, as they offer the possibility of the following things in addition to online visibility which are crucial to ecomerce:
1. Word of Mouth
Conversion is key to selling online - you have to get people to your site, but more importantly they have to take some action such as buying a product.
In this sense, visibility is only step one.
Creating positive word of mouth, getting people talking about your product and even better, recommending it to others is the most effective way to gain conversion to sales.
Participating in social media is a way to create engagement that is based on excitement about a product and recommendations, rather than purely visibility.
2. Deep-links
By pinning or sharing details of products in similar ways on other sites, you are linking to particular product pages and therefore creating what are known as deep-links.
In SEO terms, deep-links can be the most valuable in creating visibility in search engines because they communicate a higher level of engagement with a site and therefore tend to indicate an authentic interest in it.
What specialist social sites are there?
So, what other sites are out there and which should you be targeting?
Unsurprisingly - as the most viewed/pinned category on Pinterest is Food and Drink - there are lots of social networks based around food.
Mashable have a useful list here of various foodie social sites, and we like the look of Nibbledish as a site for sharing recipes.
If you're selling clothes, polyvore - a site which allows users to create style collages and 'clip' clothes from across the web - could be utilised to show off clothes and trends in order to highlight particular products and offer customers useful guidance.
Svpply is a shopping version of Pinterest for a range of products, and you can encourage people to add your products to the site by adding svpply buttons to your products on your site.
Don't forget you can also add products to Pinterest by tagging them with their price (which will allow them to show up in the 'gift' category). 
It's worth having a look to see what's out there in your particular sector.
If you know of any good specialist sites, let us know in the comments below.
We will be adding more in future!