We enjoyed exhibiting our social robot Pepper at Business Showcase SW at the Ashton Court Stadium, Bristol on Wednesday, October 5th, 2016.
Now in its third year, the event was enthusiastically attended by dozens of companies based across Bristol and the South West, and many operating nationally.
Luxury automobile manufacturers, major high street banks, printing companies, technology and telecommunications companies, advertising agencies and directories, photographers, recruitment agencies, and business education providers were among the exhibitors present.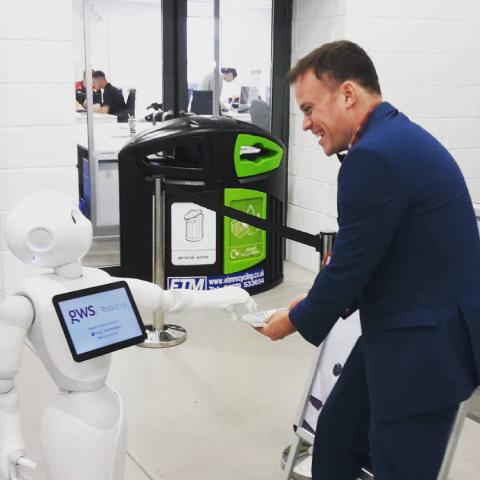 Bristol-based magician Adam Richards provided some light entertainment at the GWS stand with his sleight of hand, getting Pepper to participate in his demonstration of a card trick.
There was also a schedule of special events over the course of the day.
In the morning, Joseph Valente, a recent winner of the TV show The Apprentice, delivered a keynote speech on the secrets of his success.
At 1 p.m., a panel of business experts heard, judged and gave feedback on sixty-second business sales pitches from ten budding entrepreneurs, the winner being awarded exhibitor space at the next Business Showcase Southwest event.
Later in the afternoon, two separate hour-long workshops were held on themes of business growth and sales.
Additionally, five business seminars were held at the Dolman Hall throughout the afternoon.
Congratulations to Aaron Slater of Tiny Spark (right) who won two bottles of wine from GWS at the event, and came back to our offices afterwards to pick them up from our financial director Richard Graves (left).