GWS Media's 20th Anniversary Client Profile Feature
The South West Manufacturing Advisory Service (or SWMAS) was founded in 2002 as part of the group of organisations delivering consultancy and training to manufacturers to improve the UK's competitiveness in manufacturing, and boost exports.
SWMAS has a record of achievement and results that speaks for itself. It has delivered programmes funded by European grants as well as the UK government, and has played a role in revitalising manufacturing in the UK after years of decline.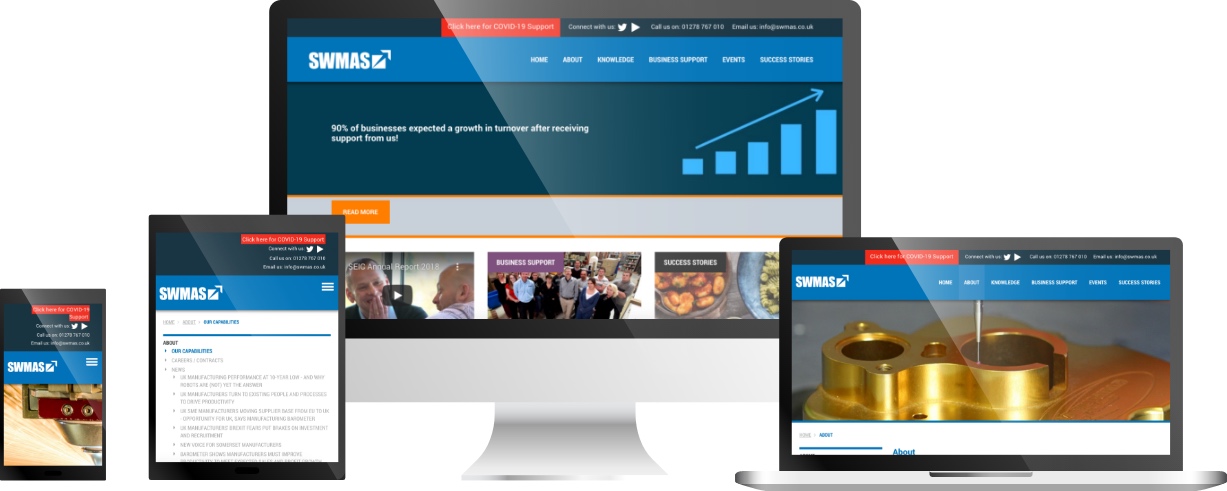 SWMAS supports businesses and helps them reach their goals within areas including productivity, efficiency and growth, working directly with manufacturers and other organisations to design and deliver programmes that offer improvement solutions. Their aim is to look at how products, people and processes can be developed to increase efficiency, and improve methods of working.
The work SWMAS does is supported by a team of specialists who provide consultancy and training services and run funded programmes. In order to support growth and innovation for UK businesses, work is often done with matched funding, reducing the cost to the client.
The extensive knowledge and experience of the staff at SWMAS make them experts in their respective fields, and we have been privileged to work with them over more than a decade. The range of the work we have carried out includes designing and creating websites, website security consultancy, development and management of an intranet, an events booking system with online payment, and a directory of UK manufacturing consultants.
We also created a website application used by SWMAS to track projects, appointments and prospects, with detailed reporting provided ; and a tablet application replacing paper forms and integrating with the website. This was used by SWMAS to save time on site diagnostic visits and increase accuracy.
Nigel Jones, Contracts Manager of SWMAS said: "SWMAS have been fortunate to work with GWS over many years and have benefited from their expert knowledge and professionalism. We congratulate them on their 20th anniversary and wish them continued success in the future."
With the challenges of COVID-19, and the changes that may be faced by exporters and the manufacturing industry after Brexit, the insights and practical improvements that SWMAS can bring to businesses in the manufacturing sector and beyond are needed now more than ever.
You can find out more about the services and opportunities offered by SWMAS here.