With the astounding success of Team GB at the Olympics and London's hosting of the Games in general, it is fascinating to gauge the impacts that the Olympics had on Twitter and that Twitter had on the Olympics.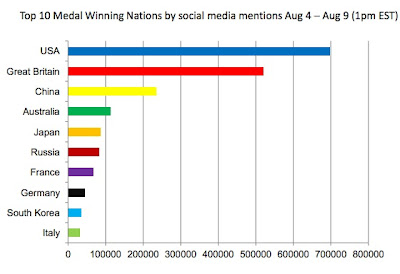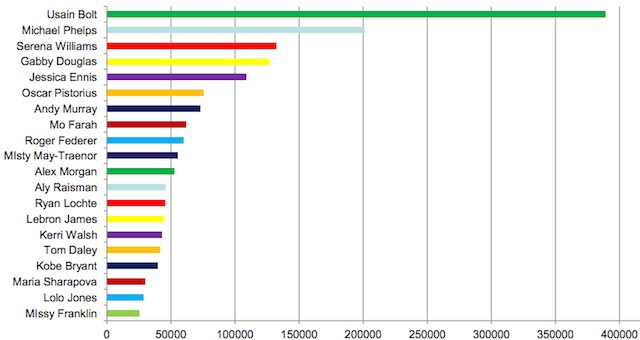 The BBC also awarded their own bronze, silver and gold medals to the best Olympic tweets and the best Olympic photos captured on smartphones and shared on Twitter.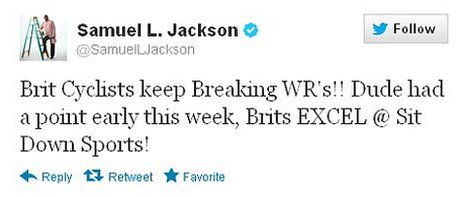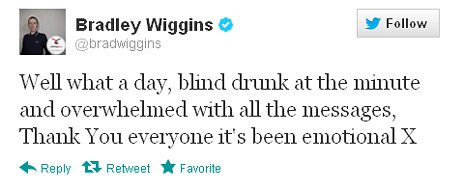 As reported by Social Media Today, the biggest moments of the comeptition, as measured by Tweets per minute (TPM), were:
Usain Bolt (@UsainBolt) of Jamaica wins gold in 200m sprint: 80,000+TPM
Bolt wins gold in the 100m sprint: 74,000+ TPM
Andy Murray (@andy_murray) of Great Britain wins gold in the men's tennis singles: 57,000+TPM
Jamaica wins gold and sets the world record in the men's 4x100 relay: 52,000+TPM
Team USA beats Spain to win gold in men's basketball: 41,000+ TPM
Team GB comes third in the tables, matching our performance in the real medal tables.
Twitter really was the social media platform of the moment during the Olympics.
The Games highlighted the influence of the hashtag and the retweet, and the power of the mass following.
(Michael Phelps, the American swimmer, was dubbed the winner of Gold in social media, acquiring over 1 million new Twitter followers over the two weeks of the Olympics.)
Twitter was a great way to find out what was happening at the games in real time.
It allowed those who couldn't be permanently glued to a TV screen or who weren't lucky enough to get tickets to the events the chance to experience the Olympics as they unfolded.
During the two weeks, it sparked a few controversies, mostly thanks to negative tweets about athletes such as Tom Daley; but as a whole it was used as a platform for the positive celebration of the Olympics, the athletes and the organisers.
The London 2012 Olympics were a perfect example of how influential Twitter can be, and this is probably only a taste of things to come in the future.
These Games may be seen as the biggest social media event so far, but they definitely won't be the last.