Weekly round-up: blogging tips, social media turn offs and Times Square without billboards
As the days get, longer the GWS team has been even busier than usual, working on a new site for a chilled packaging provider and an interesting HTML5 project where motion and visual excitement are essential (watch this space).
We also hope to reveal details of a new iPhone application in development very soon.
Here are the stories that caught our eye this week:
Social media news
Interested in blogging?
Social media consultant and blogger Debbie Hemley provides 26 top tips (one for each letter of the alphabet) to help aspiring bloggers produce high quality posts.
In our view, 6 (commit to a regular and consistent schedule) and 18 (the easier your blog is to read, the better) are the most important to keep in mind.
Chief of UX strategy at Human Factors International Dr. Susan Weinschenk argues that UX (user experience) and design thinking can play a vital role in correcting the behaviors and patterns that lead to the failure of custom software products and applications.
She presents her case in plain language and images in this YouTube video and PDF poster – check it out.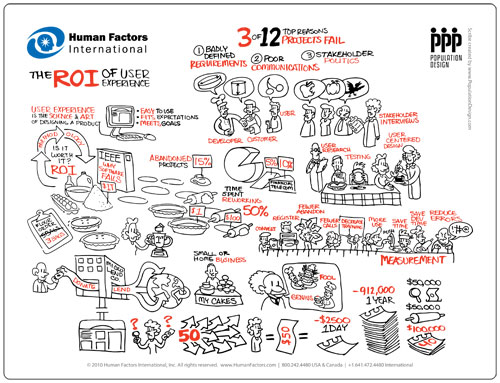 Dr. Susan Weinschenk's ROI of Usability poster (via Human Factors International).

Adam Vincenzini presents one analogy and five examples of 'social media turn-offs'.
Turn-offs include the blatant sales pitch at the end of a blog post and opportunistic self-promotion – click here for the full list.
Design news
We love this animated film from Frater celebrating the Year of the Rabbit.
Frater (Benji Davies and Jim Field) direct, design and animate for promos, short films, commercials and whatever else comes along.
Gung Hay Fat Choi!
Can you picture Times Square without billboards?
Morgan Spurlock (of Supersize Me fame) and US agency The Barbarian Group have created a site that allows users to remove the advertising from a series of different frames.
Once all the frames have been edited, an ad-free version of Times Square will be uploaded to the site….
Brilliant blog showcasing some of the best that print advertising has to offer.
Our favourite is Slim-Fast's humorous depiction of a bride sinking through a wedding cake, accompanied by the slogan 'Need to lose a little weight before your wedding?'.
We also love Adobo Magazine's inspirational tale of one of the world's most famous logos, the Nike tick.
Which is your favourite?
Slim-Fast's humourous ad (via D-Lists)
'The Makers' is a beautiful collection from Jennifer Causey, a photographer who takes pictures of people who embrace a more tactile way of living.
The full range of her images can be viewed at Jennifer Causey Photography.
World news
Events in Egypt continue to develop as President Mubarak, who on Thursday enraged protesters by refusing to resign, is reported to have left Cairo.
The army has stated that a handover of power to his deputy, Omar Suleiman, has begun.
The latest on the Julian Assange / Wikileaks saga: former friend and collaborator Daniel Domscheit-Berg, a German computer scientist who was a spokesperson for the whistleblowing site until last autumn, has called Assange an "emperor" and alleged that he is obsessed with power and money.
Assange has threatened legal action against the former insider, who is soon to launch his own whistleblowing site 'Open Leaks'.