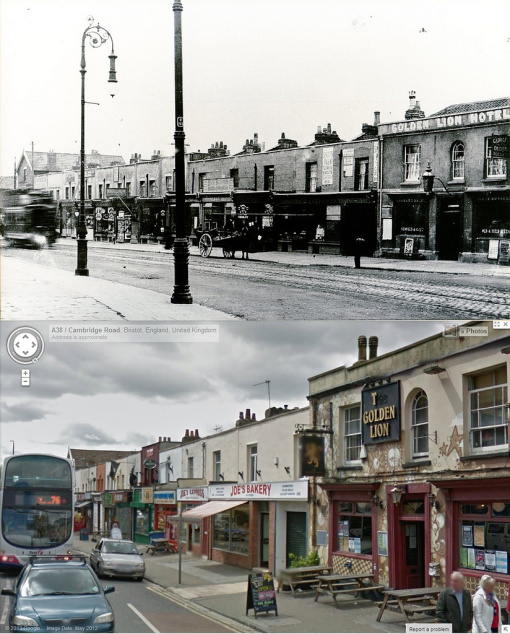 Gloucester Road in 1925 and today, via Bristol Culture
We've enjoyed the Spring sunshine this week and seeing Bristol's outdoor scene gearing up for summer.
We'll also be looking out for some exotic plants emerging from the artistic floating seed garden in the floating harbour next to Castle Park.
There are constant changes and additions to Bristol's scenery, and it's interesting to look back at how things have changed on the streets of Bristol: then and now.
Bristol today is proud of its many independent companies, festivals and food outlets; we've noticed that Bristol Temple Meads is now offering up some great food choices for train passengers including Chomp.
This week at GWS, we've been working for clients including the National Composites Centre, Clifton College and Chepstow School.
We're creating new designs for fascias and guttering supplier Kents Direct, and we've also been doing web work for life coaching expert Chris Kenber.
Social Media and Online Marketing for Businesses
Recent articles have suggested that people's online attention span is not nearly as great as you might hope, so if you're in need of bite-size data or content to keep people's attention, this article discusses what 'snackable content' is and how to create it.
For a more comprehensive look at how to approach website content, including the importance of content auditing and fitting content to small-scale devices, Smashing Magazine provides a detailed outline of suggested processes.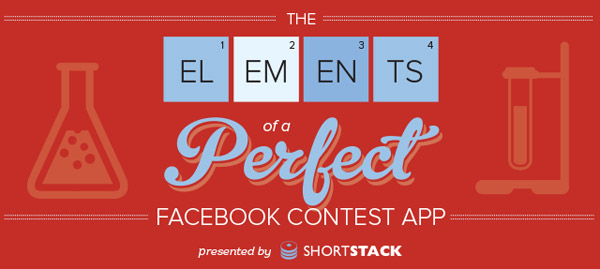 If you use Facebook and are thinking about running a competition, this infographic looks at the key elements to consider when putting together a Facebook contest app, such as including a share button, descriptive title and disclaimer, as well as some tips for promoting it.
If you're more interested in the business world of Twitter, there may soon be opportunities for keyword-led advertising based on popular tweets, which will run along the same lines as Google and Facebook ads.
For some free social media management tools, take a look at these suggestions from Socialmouths on how to manage your online reputation, which include Tweetbeep and Monitorthis.
Art, Design and Technology
For any iPad users needing to connect to their desktop, Mashable suggests some free and simple-to-use apps such as Splashtop.
And if you're a cyclist on the go and have an iPad or other devices which need charging, the Atom - a bike-powered charger designed by Siva Cycles - could be the solution.
Another techy design we came across this week is the wave wristband, which alerts the wearer to phone calls and messages when in a noisy environment by lighting up in bright colours. Would you wear one and reveal to everyone around you how popular (or not) you are?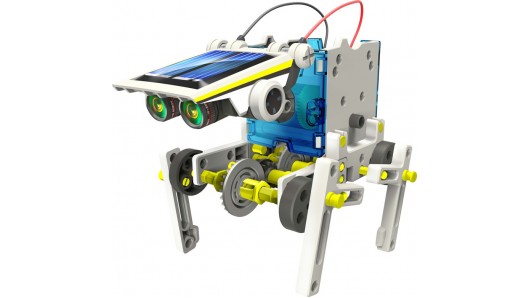 Solar-powered robot
We also liked the look of this solar-powered robot, which can swim, roll and be transformed into 14 different modes to perform specific skills and movements.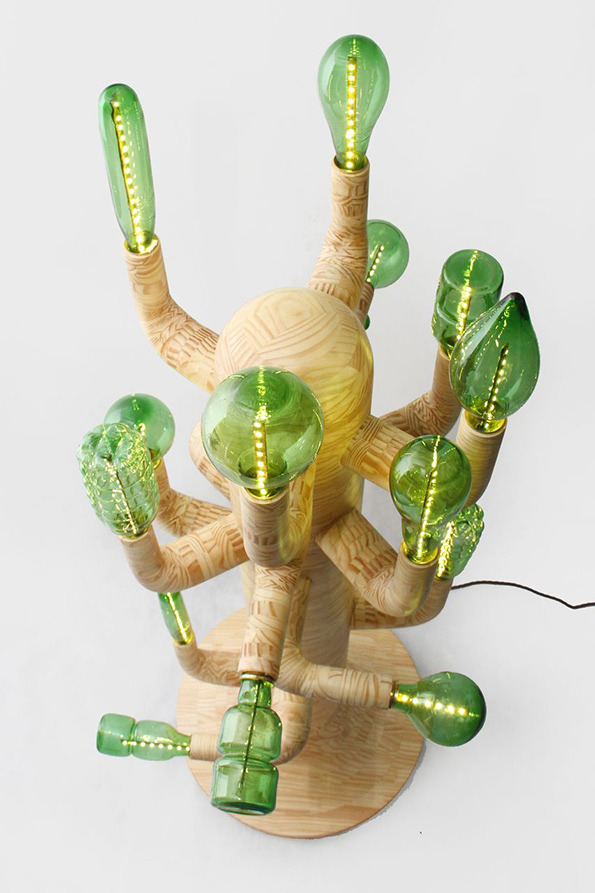 Recycled bottle lamps by Studio Swine 
Designs that grabbed our attention this week include these lamps made with recycled glass bottles and illustrations by Ben Sanders - including a design for the London Olympics last year.
We thought we'd end with an animation - but not the kind you might expect.
This IBM animation was created by shaping and moving individual atoms into 242 images, and is an insightful look into the microscopic world of atoms via the scientific tool that is able to move them.
It's your turn!
Leave us a comment relating to this post or let us know your ideas for future topics!