Weekly Round-Up: YouTube, Banksy Watch & TV BAFTAs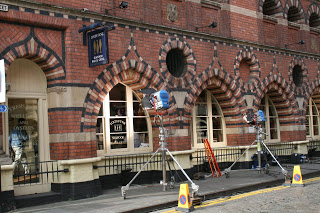 A fairly common Bristol site: Casualty filming near our offices this week
This week we've been hard at work finishing the latest version of the Bristol App, which will now offer a lot more to tourists as well as to Bristolians. We've gone live with a polling system for a lovely community site, and we've also been doing Easter updates for a tax jobs company and a Bristol chauffeur company.
Here's what's been catching our eyes this week:
Bristol has been in the news a lot recently for slightly less pleasant reasons, as a riot erupted in the Stokes Croft area last Thursday night over the site of a new Tesco Express store. News broke out over Twitter as it happened and early on Good Friday morning (check #Stokescroft for latest updates as well as a timeline of events as they happened) and it was quite a while before news channels caught up. The coverage in the national press over the weekend presented information about police injuries and accusations of brutality. At the start of the week, local businesses were discussing the impact the event has had on them, and the possible damage to the area's reputation it has caused. We were also particularly interested in this reaction from a local photographer, who came home from photographing a wedding to find he had a front row seat to a big news story and was consequently featured prominently in the national press. You can see his photos here.