Welcome back to GWS Media's multi-part blog series about great web design for charities. 
We've already talked about how to communicate your goals to a target audience of funders and donors (the people who need to know how they can help, why they should help, and what you will do with their money).
Charity web design has come a long way, from simply being functional. Just look at the difference between NSPCC's homepage around ten years ago....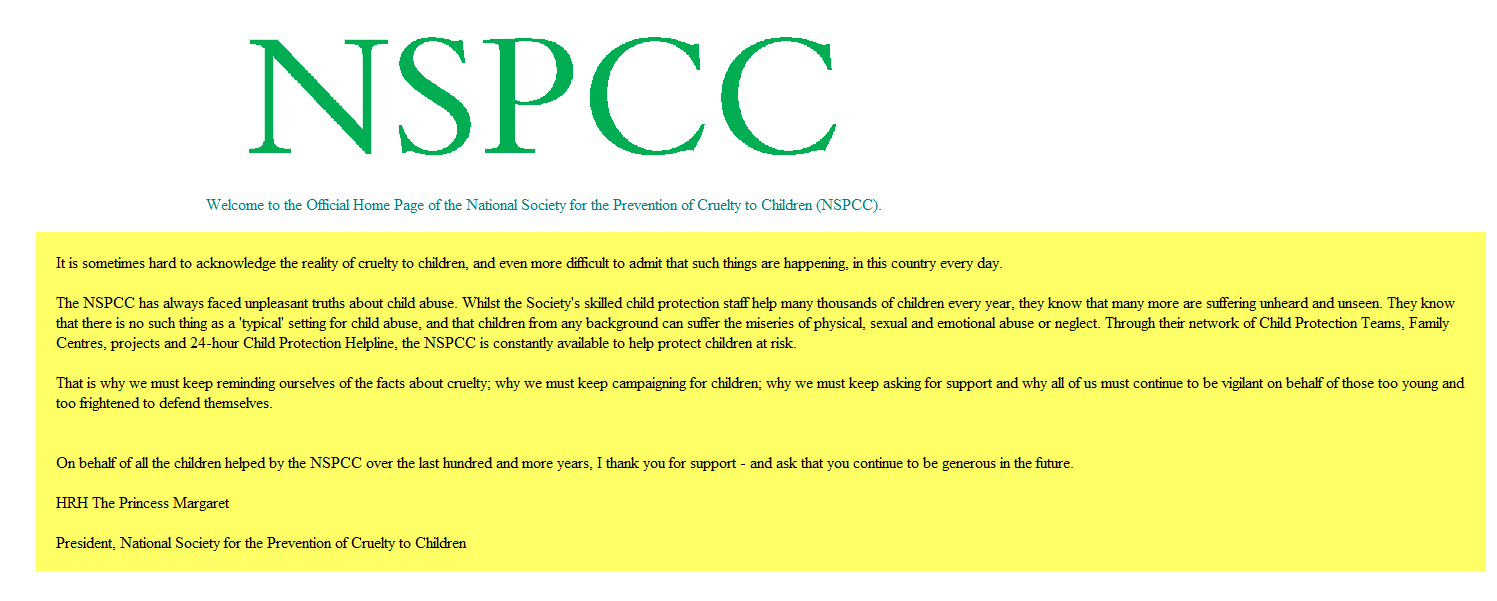 And how much has changed today....
With attractive Flash, careful branding, and great images, NSPCC's homepage conveys their core purpose well.
Charity websites should serve as much more than a bare source of information - they are an extension of the organisation itself.
To continue from where we left off:  this next phase - objectives three and four - in the charity web design process develops from an inward perspective.
It involves thought and input from your whole team - strategic planning, about what your organisation and its long term vision really are; and where you want to be in future.
The third objective of charity web design, as you may remember from our first post, is to convey to professionals in your field your expertise and value; these are people who you are not trying to sell to, but to network with, for specific rewards and returns.
The third objective, as far as design goes, is similar to the second objective... but different.
The distinction is important.
The second objective (covered last week) was to demonstrate your charity's value in relation to a specific purpose (the objective of your work: e.g., to provide housing and education for the poorest children in Mumbai).
The third is about demonstrating your charity's value to an ultimate purpose (the vision that unites all the professionals in your field: e.g., to eradicate child poverty in India).
Objective Three can be served well by showcasing how your top people contribute to wider debates and respond to topical events.
Global Action Plan (a very nice site!) positions their CEO's blog prominently, and provides up-to-date information - and evidence of their involvement at the leading edge - about breaking environmental news for their visitors.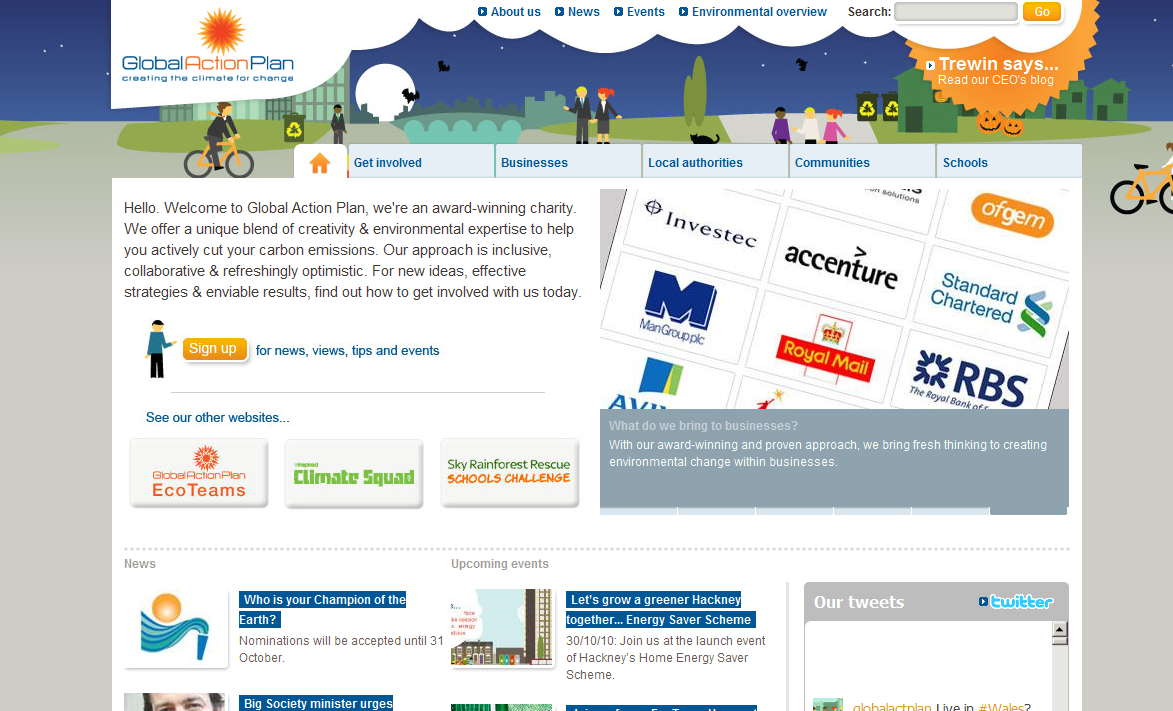 Global Witness's striking homepage shows their connection to breaking news through well chosen images and impactful headlines.
Their publications, and their input into global debates, are also prominently showcased via banners throughout the site.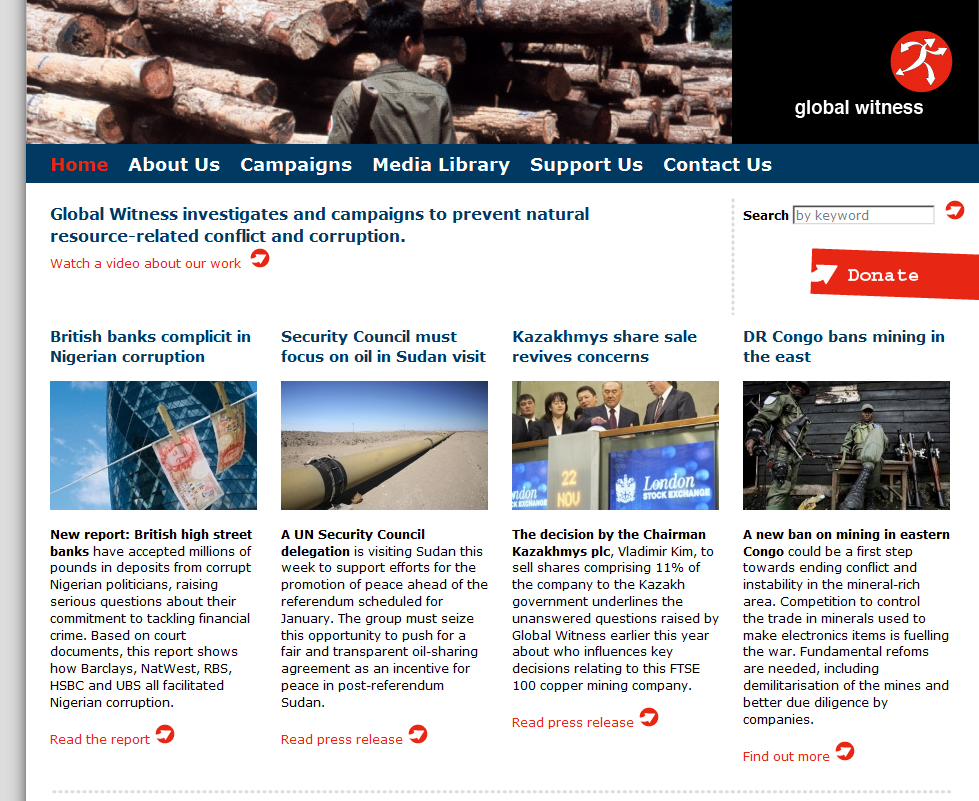 If your charity is local (focused on a specific community) or supports a very particular minority group, use your site to become a resource library; provide as much information as possible about that community, their progress, and your projects.
Your website needs to prove that your organisation is placed better than anyone else to:
understand and assess need,
work in partnership,
and direct funds where they are needed most.
This charity, based on a single island in Malawi, is a great example, with videos, pictures, maps and other information demonstrating their passion both for the place, and for working with locals to create change.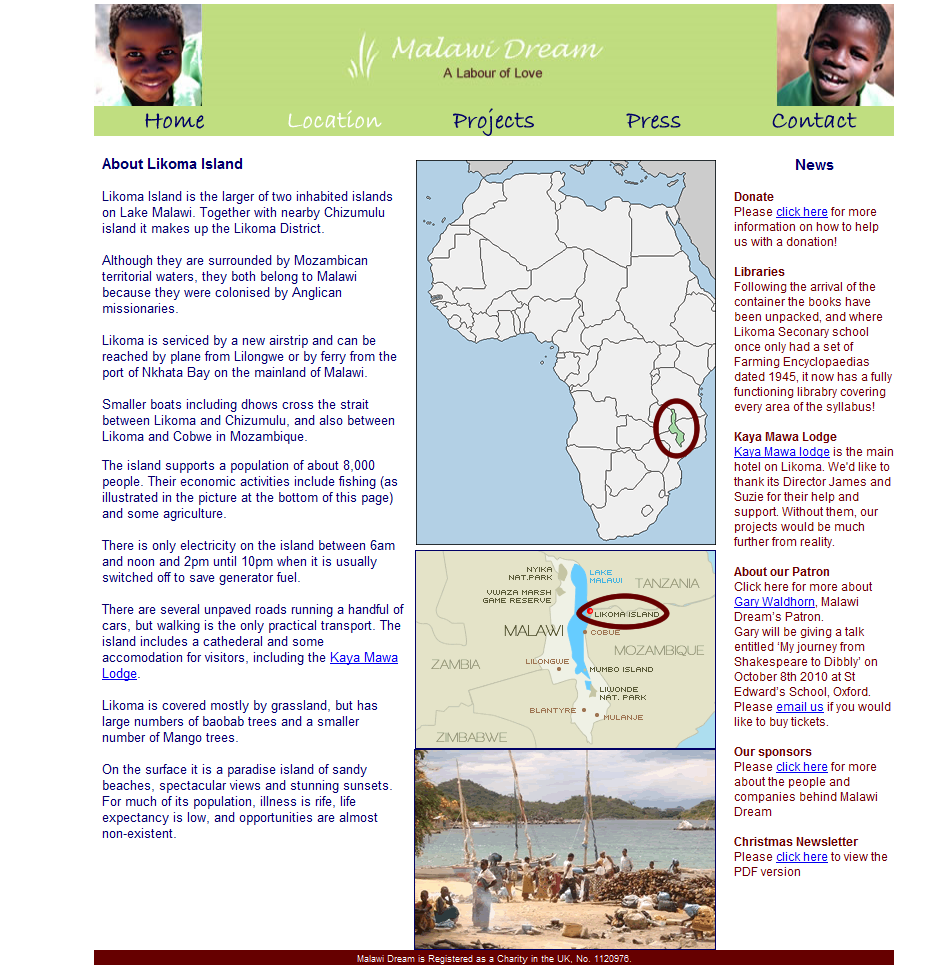 And that concludes part 4 in our series on charity web design - we hope it's been food for thought.
Next, the final post in this series will address perhaps the most difficult and important objective for charity websites; how to communicate your passion for working in partnership with beneficiaries, and how to communicate what your intentions are directly to your target service users.
We'll explore further exactly why this is important, very soon!
Meanwhile, let us know (tweet or comment on the blog!) which is your favourite charity website....and why?
Continue to part 5: Synergy and Partnership with Beneficiaries