Fourth Objective of Charity Website Design: Synergy and Partnerships with Beneficiaries
Welcome back to GWS Media's blog series about great web design for charities. 
This is the final post: we've already talked about how to communicate your goals to a target audience of funders and donors, and how to use your website to communicate with other professionals and leaders in your field.
The fourth objective, as we implied already, is the most complex to achieve: conveying to the recipients of your charity - direct, and indirect - why you are important to them and why they should work with you. 
As we wrote in our introduction, charities are now facing increasing competition for funding, and the nature of charity work is changing fundamentally; foreign aid, environmental work, and social care has, for many organisations, evolved from an (unspoken) hierarchical relationship into a partnership with those who benefit.
This type of approach, in some (if not most) not-for-profit circles, is thought to be more effective and more likely to create sustained change.
This means charities need to use their sites to showcase engagement with all stakeholders; and evidence of direct communication, and consultation, with recipients / beneficiaries in their work.
How to do it?
GWS found that examples were more difficult to find here, but there are some inspiring ones.
Mencap are one organisation who have put a lot of effort into providing content for their service users, clearly aimed at them and addressing their needs; fun video content and straightforward navigation (a snippet of which is below) do this really well.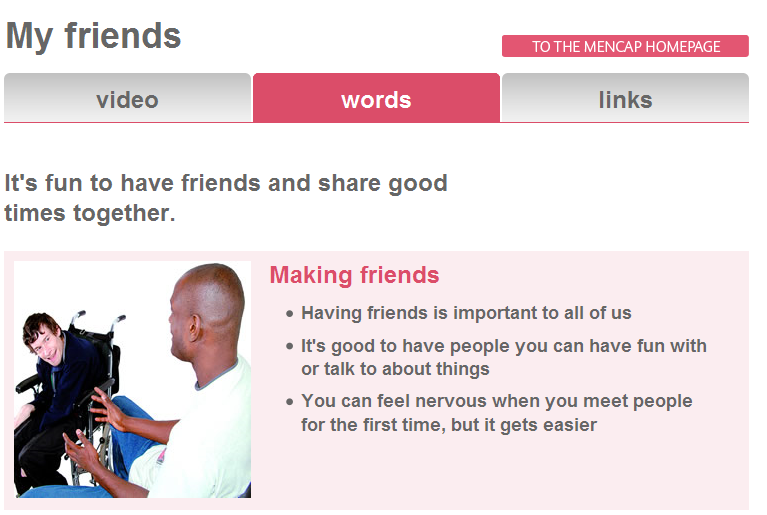 Read on to get inspired!
We love Somaly Mam's website with its 'Voices for Change' banner, depicting the involvement of past recipients of the organisation's help in achieving Somaly Mam's goals.
To address the fourth objective, of course, very much depends on the charity and what you do. Images, however, can help all charities convey this message in subtle ways.
Since the 1990s, many charities have moved away from depicting recipients as helpless victims in the images on their homepage, and towards portraying positive visions of progress.
For example,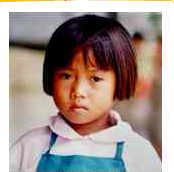 compare the image of the first child's face...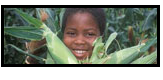 ... with the second image of a child most prominent on the site today.
Portraying recipients in a positive, empowering way can also be done through language of course, and many of the websites we've featured have done that very well.
Also, try emphasising the influence of local ideas on your work through multilingual pages - Plan International is a good example of this...

...or by giving equal and prominent site space to your local partners; for example, Malawi charity Temwa - based right here in Bristol - profiles their 'Temwa UK' and 'Temwa Malawi' offices; well-photographed images throughout their website also depict positive and 'proactive' snapshots of local projects and workers.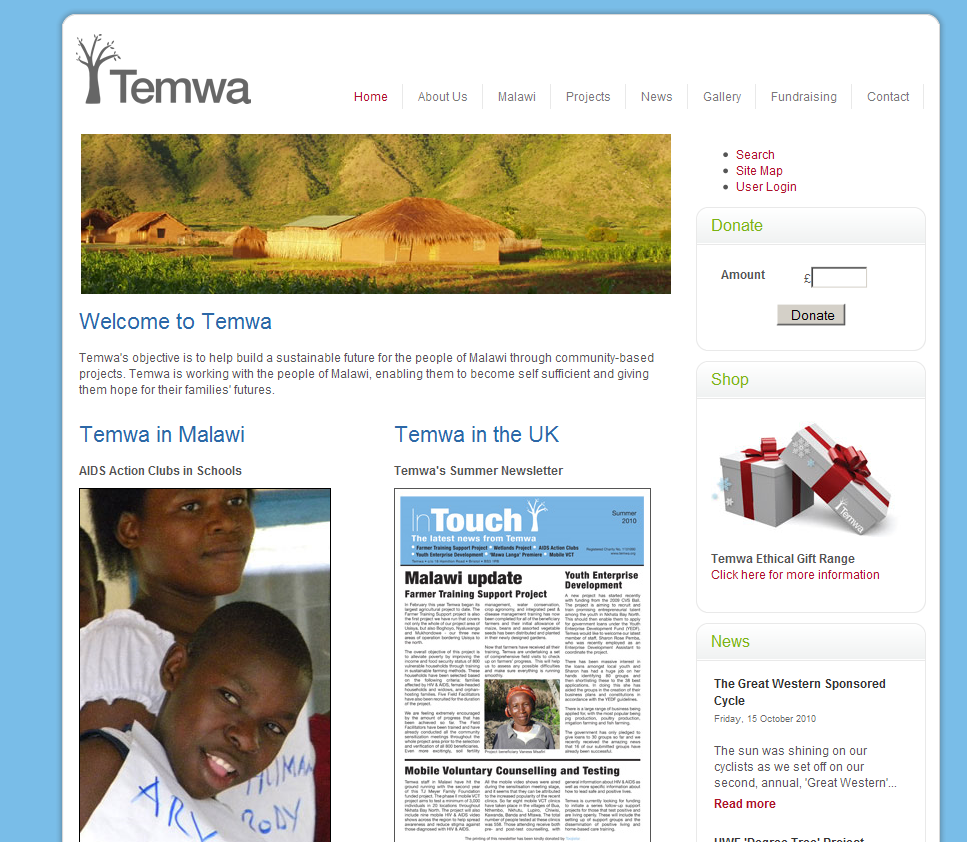 Concluding Thoughts
That's all for now! We hope this multi-part blog series has helped you think more about how to communicate with your supporters and stakeholders via a well-designed charity website, and given you ideas about how to move forward with your web design project.
To summarise, a good charity website needs to appeal to several different audiences; the general public, funding bodies, professionals in your field, and the target beneficiaries. This can be a difficult balance to achieve, but the success of many websites showcased above and in our past posts shows some great examples of how this can be done. Good luck!
Can you think of any more inspiring examples?
What do you think about those we've chosen?
Let us know by contacting us on Facebook, commenting on the blog, or tweeting at us - we'd love to hear from you!