The GWS Festive Guide to Bristol
This week, instead of our regular weekly round-up, we felt like getting festive.
Last year we shared our Bristol Gift Guide; and this year, with Bristol offering so many markets and seasonal shopping specials, we've again highlighted some Christmas shopping opportunities and events in the city.
With cold gloomy weather forecast and everyone counting down the days until Christmas, it's no wonder some people are avoiding the outdoors and instead choose to purchase internet treats.
However, we see many Bristol folk battle the elements to enjoy the experiences of shopping on the streets.
We've put together some suggestions of great places to find local gifts and catch some festive cheer.
City Centre Shopping:
German Christmas Market at Broadmead
The German Christmas Market has returned to Broadmead this year and is full of holiday treats and gifts.
Local companies have set up shop too, so if you want to treat yourself with local produce, there's plenty to choose from including cider, chocolate, cheese, sausages and crepes!
There are handmade gifts a plenty too, from hats and cosy clothing to jewellery and the famous Bristol Blue Glass.
The Christmas market is open for another week - plenty of time to browse and enjoy the festive atmosphere.
Pop Up Bristol at Cabot Circus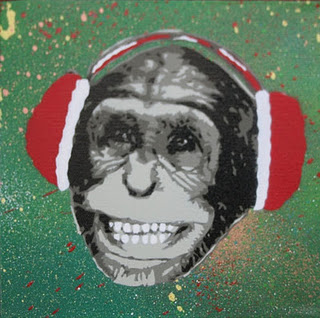 Matti - One of the featured artists appearing in the Pop Up Shop
Cabot Circus is also home to Pop Up Bristol until Christmas, where you'll find three shops turned showcase spaces for arts, crafts and gifts by local artists.
It's a great place to find unique handmade gifts whilst supporting Bristol's creative talent.
Giant Advent Calendars
Broadmead's Christmas Market is also displaying an impressive giant advent calendar where children have a chance to receive a gift from Santa at its daily opening at 4pm.
Look out for another giant calendar in Cabot Circus and also the chance to win prizes by entering an competition online.
St. Nicholas' Market
St Nicholas' Market never disappoints when it comes to tantalising food and drink, local products and inspired gifts.
For extra festive foods without the supermarket rush, a special Christmas food market will appear on Corn Street this Saturday.
There's also the Friday food market on Wine Street as well as one more Farmers Market Wednesday before Christmas next week.
Finally, Colston Hall this Saturday hosts the Made in Bristol Christmas Gift Fair which boasts over 100 creative locals with original and handmade designs.
Gifts and edible treats galore!
Radisson Blu
If you're gift shopping this weekend and the bags start to pile up, Radisson Blu has a relaxing bar, ideal for a coffee break.
They'll also look after your Christmas shopping in a secure lockup, so you're free to pick up more presents until the end of the day!
Festive Events:
Hounded
This evening, look out for foxes and huntsmen in the old city streets!
If you fancy being part of the chase, Hounded is another exciting games event from the organisers of Igfest, with a seasonal twist and mulled wine when it's game over.
Stokes Croft Winter Fayre
Coming up tomorrow, the 17th December is a fantastic effort from the Stokes Croft Markets group.
Stokes Croft Winter Fayre will be full of Christmas markets, live music, merry food and drink and arts and craft stalls.
You'll find stalls and events outside and in venues along Cheltenham Road and Stokes Croft with much support from local businesses.
Other Weekend Events
There's a host of other local and free events to get involved with this weekend, including some festive songs from St Pauls Community Choir and a jolly winter party at Eastside Roots.
Gift ideas for the New Year
Theatre Shows
If you're out of time for gift buying, why not book a ticket for an event in the New Year when the festive cheer is ebbing away?
For a theatrical treat for the family, the seasonal show of Cinderella is on at the Tobacco Factory until the middle of January.
And if comedy is more your thing, InstantWit brings another live improvisation comedy show to the Brewery Theatre.
Slapstick Festival
Another great event in January is the Slapstick Festival, celebrating silent comedy.
This is bound to bring some laughter and light spiritedness to winter, with films and events on at three venues.
Wildlife Photographer of the Year
For art and wildlife enthusiasts, Bristol Museum and Art Gallery is home to a free exhibition until March next year, celebrating the natural world with Wildlife Photographer of the Year.
Quakers Friars Outdoor Ice Skating Rink
And for something more active, you can book to skate at the outdoor rink in Quakers Friars until 9th January.
Final Thoughts
We hope you enjoy all that Bristol has to offer for shopping and seasonal merriment.
If you know of any other events or great shopping you think we should include, please let us know!