University Website Design: Social Media
Over the past weeks, we've written about the design strategies of university websites, both the home page design and that of the inner pages.
While we were doing our research, it occurred to us that there is another aspect relevant to this area: social media.
While not all universities are actively using social media, some already are, so we thought it would be interesting to draw attention to why and how it is being used.
First of all, why would universities want to use social media?
As with any other business, the website alone can only do so much.
In competitive markets, which is where universities surely are, social media are a fantastic opportunity to add extra value to your web presence and give the prospective client (in this case a student or an academic, or a funding body, etc.) a more detailed understanding of who you are and what you do.
University departments are actually in an ideal position to make the most of the power of social media.
Websites take a lot longer to update, so it can be an uphill struggle to get the latest news or student and staff achievements up where visitors can see them (particularly if this can be a lengthy and time-consuming process, relying on various members of staff).
Social media, on the other hand, are quick and easy to use, and so ideal for publicising events and news as they happen, as well as work being produced by students and staff on a day-to-day basis.
The next step, as for anyone, is how to use it.
We've found some great examples of universities who are using social media platforms very successfully.
Of course, there are many more examples than we can cover in a single article, and it seems that American Universities are ahead of British universities in terms of social media take up (just look at Princeton's social media channels, which shows at least 18 blogs associated with the university, not to mention Twitter, LinkedIn, Facebook and YouTube). Even a brief look reveals a lot of ideas that should be useful to anyone thinking about how they are using social media platforms, and particularly when using several at once.
1. Consistency
The look of social media channels associated with a website should be consistent, so that the relationship between them is visually consistent.
As with the inner pages of a website, the visitor shouldn't suddenly feel lost part way in their journey through a site; and consistency in visual design is a main way to achieve this.
London College of Communication uses its striking logo and font across the various social media channels starting on the home page.
This gives an example of just how effectively an eye-catching logo can anchor a visitor's experience: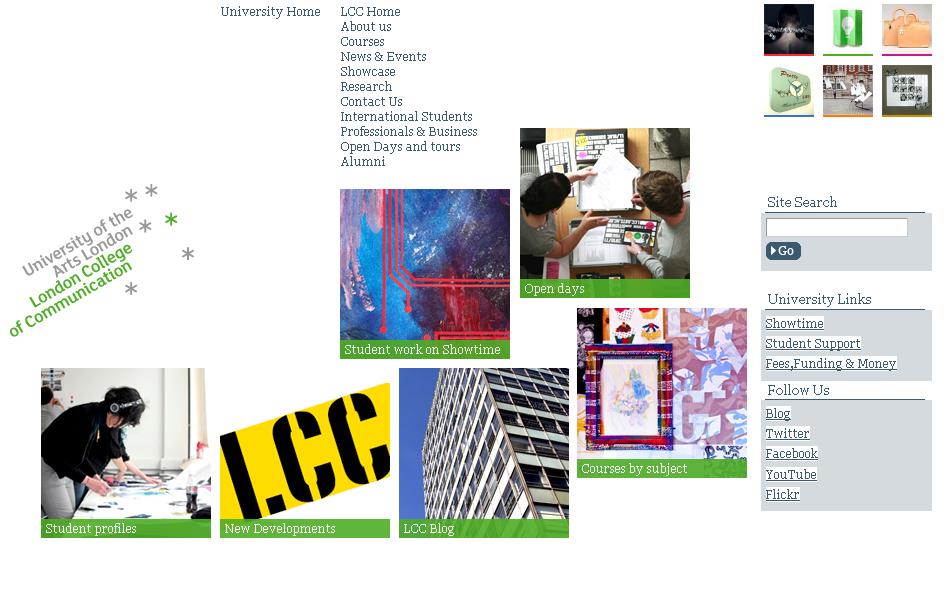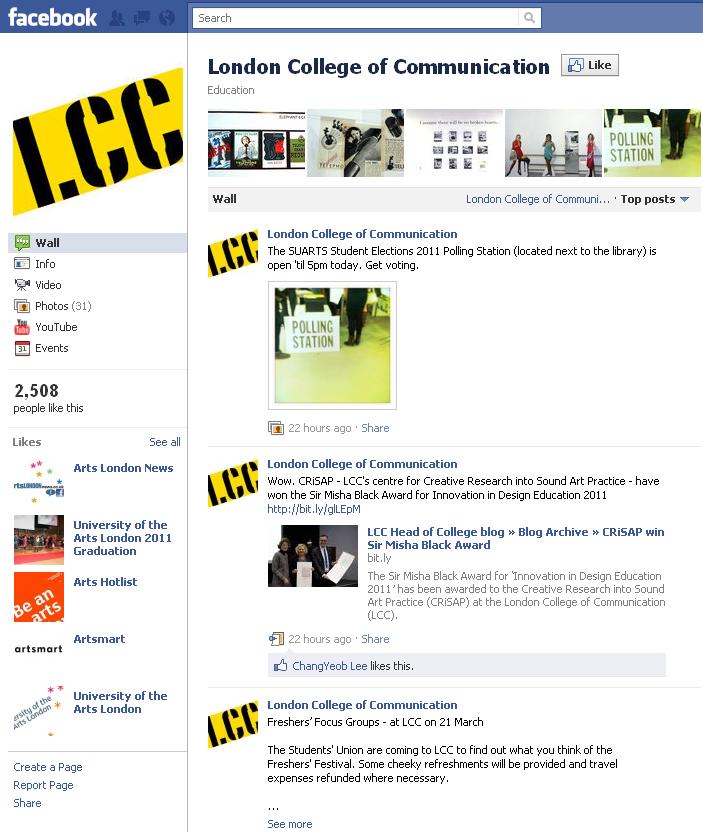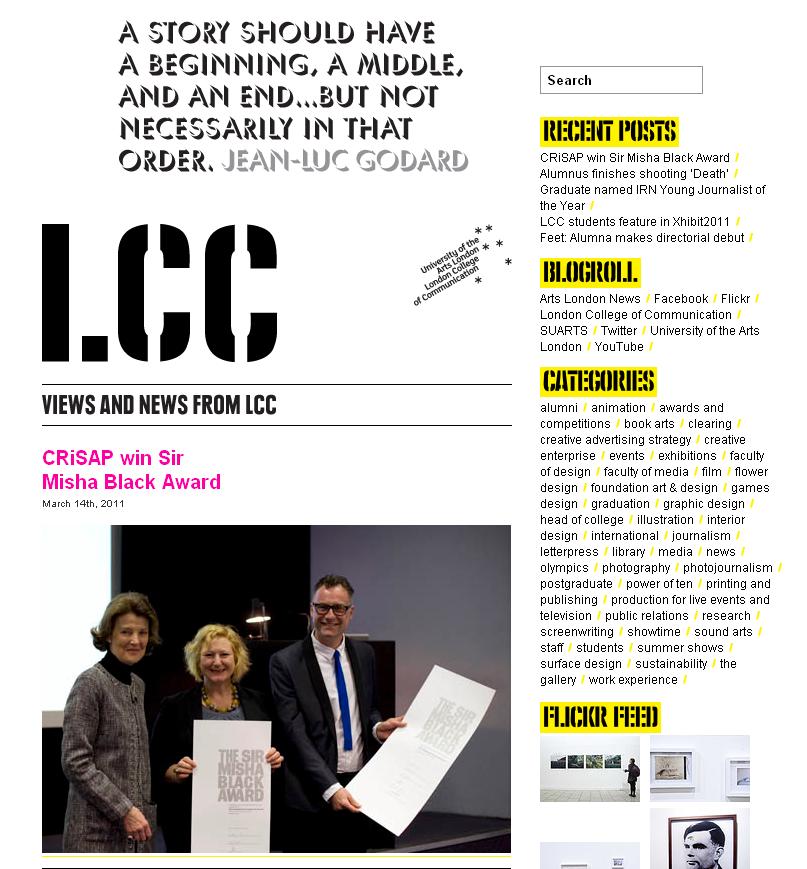 The Department of Film, Theatre & Television at the University of Reading achieves consistency, but rather than through a logo, the social media platforms they use are connected through the repetition of images associated with the Department.
The images used as avatar and background do appear on the departmental website, but become a stronger presence through their use on Facebook, YouTube & Twitter.
As such, the social media channels are both visually striking and graphically related, while their visual connection to the department lies at a more subliminal level, backed by the presence of 'University of Reading' in headings and by the connections between these sites and the main website.
Everywhere you go, there is a ubiquitous 'things to do now' box, which includes Twitter, Blog, Facebook and YouTube links.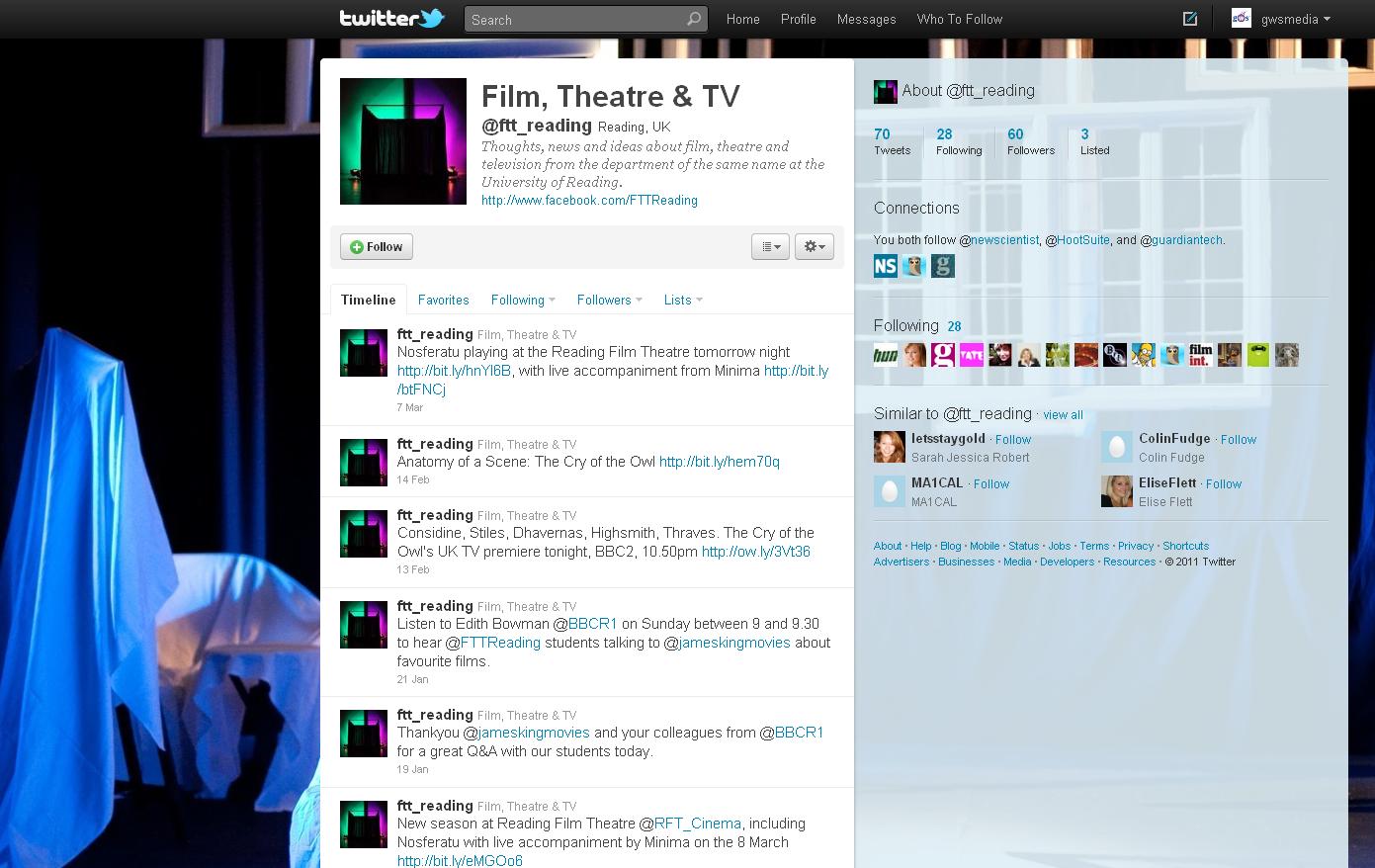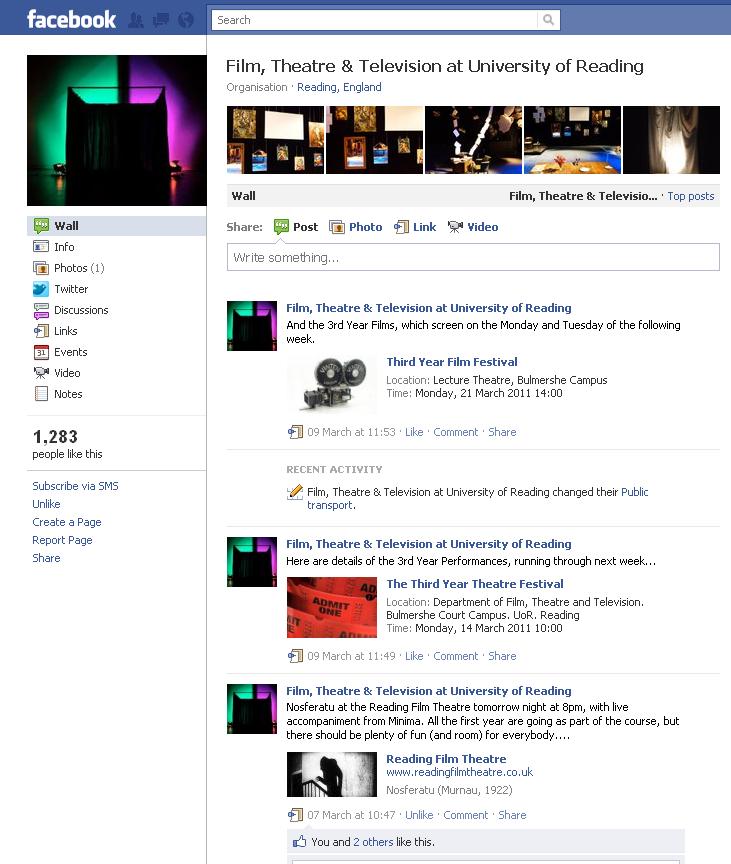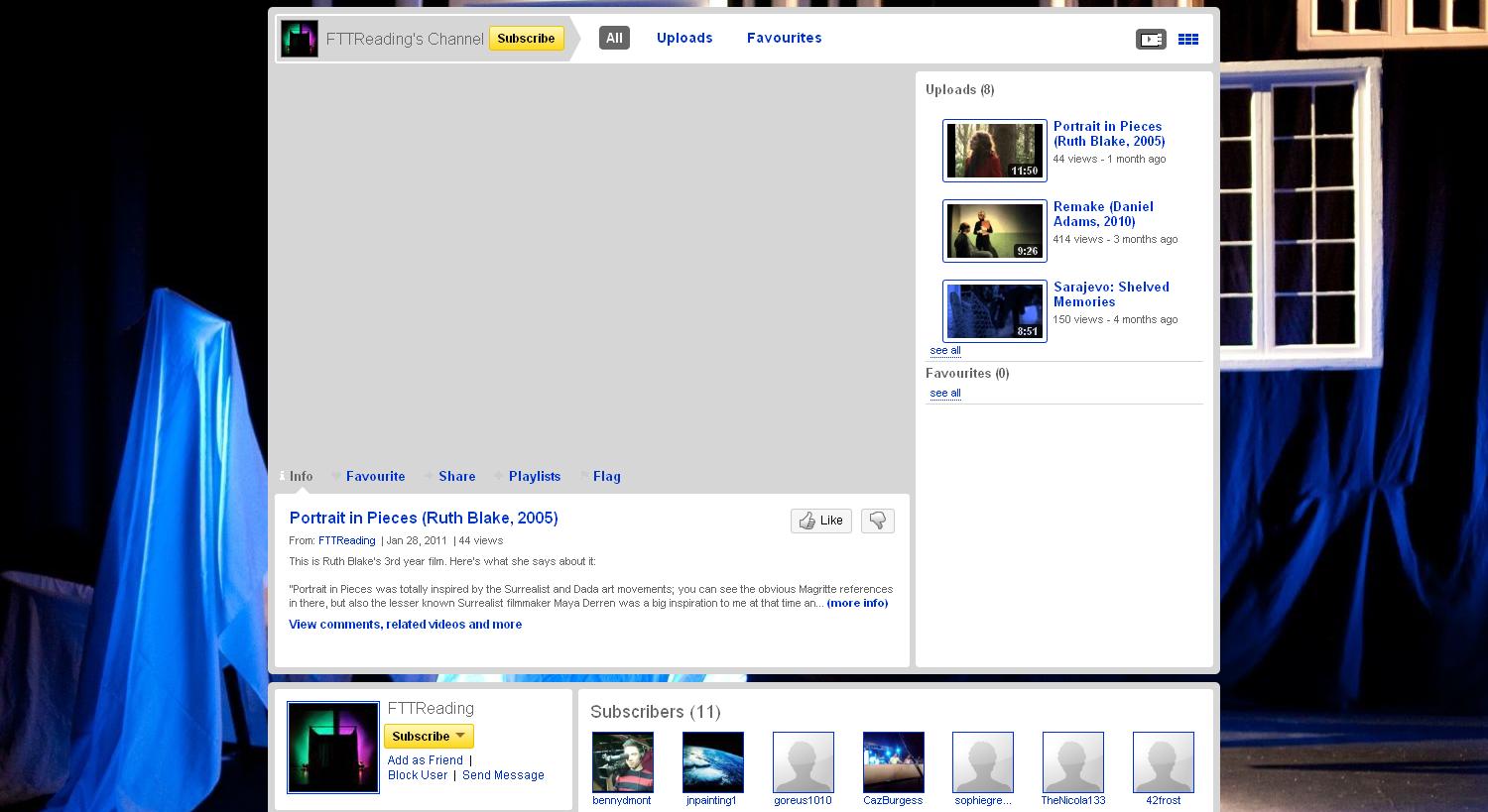 While it might be no surprise that arts colleges or departments that deal with media and performance might have a strong presence on social media platforms, there are other examples of older institutions and more traditional subject areas getting involved, such as Bristol University's Faculty of Science, which has a blog embedded into the main site.
The format has also been customised to fit the design of the site: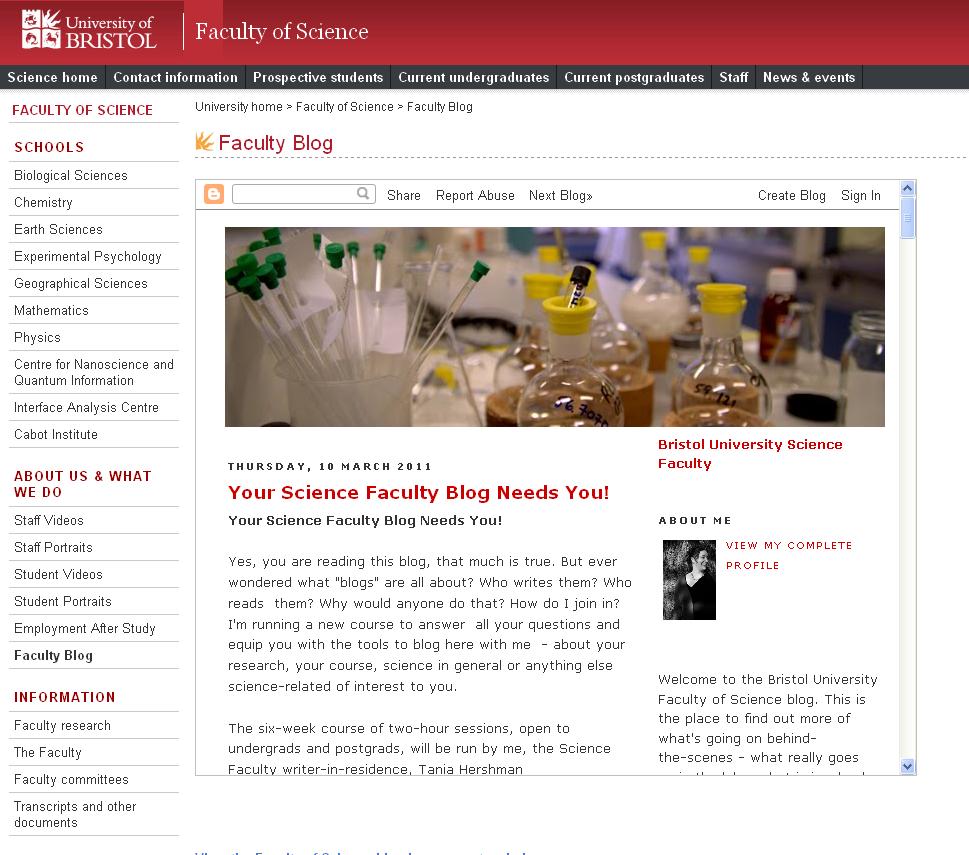 2. Content
As we suggested earlier, university departments should have plenty to share, but as always with social media, it is important to decide on the tone of this content, how it's going to be shared and what kind of news goes into which channel.
Film, Theatre & Television at Reading have made very specific choices about what goes where, choosing to put more department news on the Facebook page, while their blog (written by different members of the department) is much more research-led.
Facebook is the obvious choice for them to share pictures and events, while YouTube is ideal for student films produced in the Department.
In this way, the Department avoids repetition, so that each platform has its own value providing a particular type of content with a different focus.
Clearly, these kinds of decisions relate very specifically to the kind of subject a university department is based around.
London College of Communication has a Flickr account, which it uses for showcasing its exhibitions, which wouldn't be useful for some departments.
3. Communication.
At the heart of this use of social media is the communication of the nature of the university or department.
Universities must market themselves to attract students, and social media is the ideal vehicle for giving a more detailed sense of what a department is like, in a much more engaging way than a website can (particularly as university websites need to be offering more practical information).
Social media offer an opportunity to showcase what is going on right now, things that might not be strictly relevant to a degree or programme of study (an event might be over by the time a prospective student joins) but that are vital to giving a sense of what the department is like, what the interests of its staff and students are, and what extra a student might get out of studying there.
This is where it is very important that value is added by someone engaging with the specific qualities of that social media platform - where Reading's approach of setting a different agenda for Twitter, Facebook and their blog is vital, and can thus add more than one layer of interest.
Social media platforms also offer an opportunity to engage with current (and prospective) students, which can be challenging and difficult to get right - it's clear that the universities that we have mentioned who are getting it right have an active student presence interacting and commenting on their blogs and Facebook pages.
Looking at the way these universities use social media has been an ideal opportunity to think about the various platforms in more detail, to remember the importance of visual consistency and branding, to refresh our thinking about what is good for what platform, how to add value to client (and employee for that matter) experience.
Thinking carefully about how you and others use social media is an essential part of being successful with it, whether you are a university, a big corporation or a small business owner.