This is the third and final post in our 3-part series concentrating on the design of clothing websites.
The previous two posts have focused on homepage appearance, showcasing the product, site functionality and navigation.
To round off the series, we're going to look at the interactive features of clothing websites that give certain brands a unique touch and appeal.
Interactive: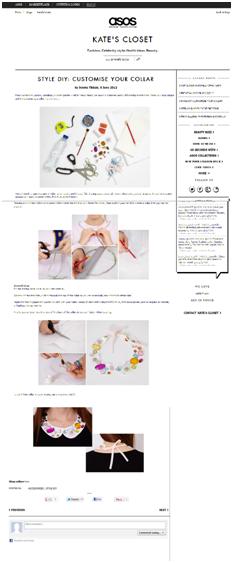 In order to maximise the appeal of their site some clothing sites make use of interactive features and content.
Asos is a prime example of this as the site has a regularly updated blog, which features contributions by a variety of different Asos bloggers.
These blogs are largely picture-based, and the themes fit with the particular season or fashion trends of the moment.
Elements like this generate new content for the site while keeping it up to date, which is important for clothing companies in general as fashion trends change very quickly.
Because this content is featured as a blog, rather than a section on the website, it allows users to comment and interact with each post.
Other sites aim to be up-to-the-minute in a variety of ways, often offering a 'new this week' page.
This highlights a way in which clothing companies use ecommerce to their advantage: it is much easier to update content on a webpage than it is to change the look of a store and the design of clothing websites allows the company to maintain a cutting-edge image.
Uniqueness: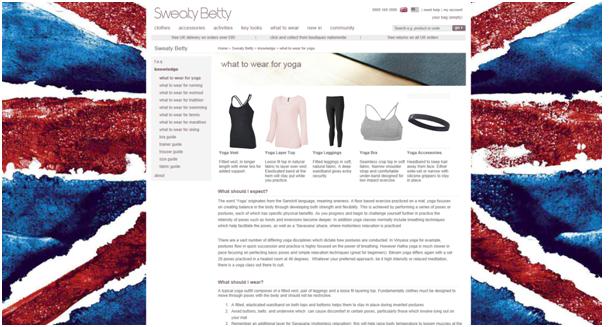 When there are so many online clothing companies aiming their products at a similar audience, it is vital for them to stand out from the others and to have a unique selling point.
As discussed in previous posts in this series, homepage appearance and branding are key to giving clothing websites an exceptional feel, but in addition to the particularity of a brand, there are also other ways to generate extra interest in a site, even if the product concept is not exclusive.
Sweaty Betty is a woman's sportswear company. Its website creates its own niche by offering personalised advice on what to wear for particular activities. This gives the website its unique selling point and helps to establish it as a big name in the field of sports clothing.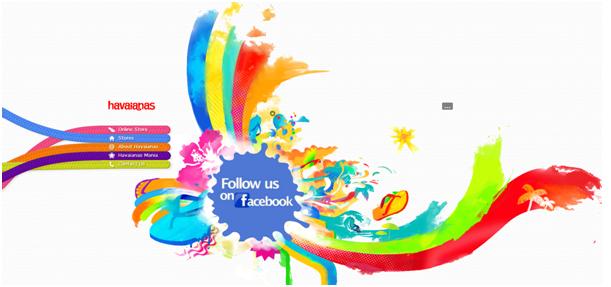 Havaianas: homepage emphasises social media
Social Media:
Like many other websites, clothing sites try to encourage users to interact through social media platforms.
This is an excellent way of increasing interest and using different forms of marketing to increase brand visibility.
The website for flip-flop brand Havaianas places social media at the forefront of its design, encouraging visitors to connect with the brand on Facebook through eye-catching design.
Pinterest, because of its emphasis on the visual, is also becoming a key place for clothing brands to create visibility and brand awareness.
US shop Nordstrom is making good use of this by adding even more aspirational elements to a brand, via boards which evoke a particular lifestyle to go with the clothes it sells.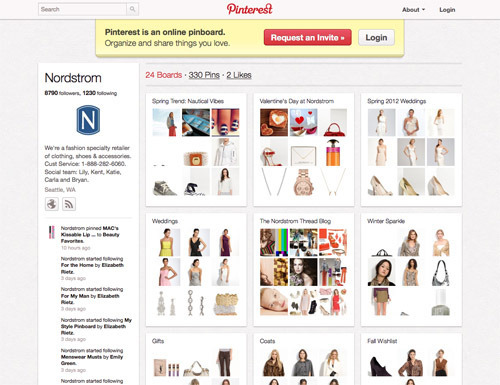 Nordstrom on Pinterest
We hope you've enjoyed our series focusing on aspects of design utilised by clothing websites.
As fashion is such a fast-paced industry, it is crucial for websites to be as cutting-edge and fashionable as the products they're selling.
If you've got any ideas about what our next website design series should focus on, let us know by leaving a comment below!