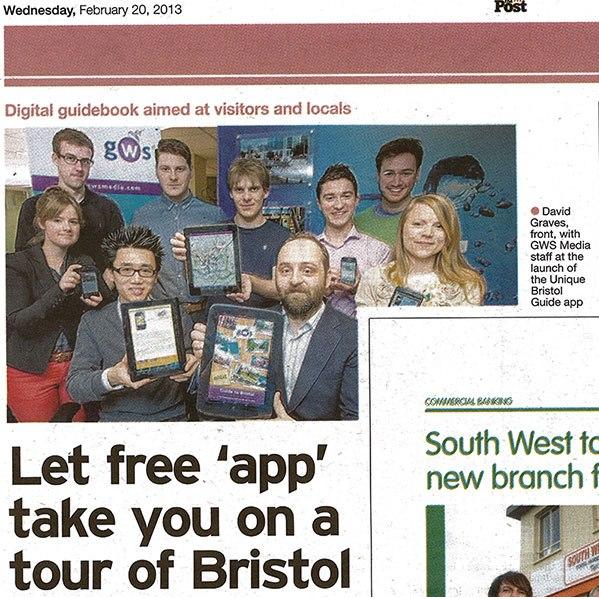 The GWS team in the Bristol Post this week
Bristol Guide App
Spring is not quite in the air yet, but it is tantalisingly around the corner as we look forward to the return of some sun and begin to enjoy the longer days.
Of course, longer days also mean more time to fit in the many events and exhibitions that are taking place in Bristol.
Interesting shows running at local museums include the Bristol Museum and Art Gallery's 'No Borders' event, 'Reigning Cats and Dogs' at the Royal West of England Academy.
The sweetest of them all, Chocolate! can be tasted at the Bristol Mshed until May.
If you love the sounds of the '70's, Boogie Nights the Musical will also be coming to the Bristol Colston Hall on February 25th - time to put on those dancing shoes!
This week at GWS we've been busy with meetings and App projects, and we've had some great publicity for our Bristol App in the Bristol post (pictured above). We hope people will continue to download the latest version available via Google Play as well as the App Store.
We've also been celebrating some exciting new clients coming on board (more on this in future roundups); and also for all you Blackberry phone users, we have a version of the Bristol Guide in the works.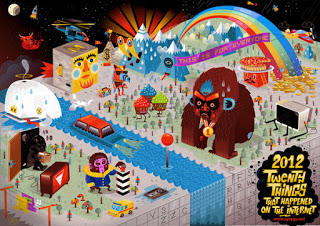 2012 Twenty Things That Happened On The Internet by Niark1
Content Marketing Optimisation
Content Marketing Optimisation (CMO) is the buzz word of the moment, and it's replacing old SEO tactics.
As Shell Robshaw-Bryan reports, 2013 is predicted to be all about creating original content under Google's ever-evolving ranking algorithm.
If you would like to read more about content marketing strategies, Social Media Examiner collected some useful tips from CMO experts.
Lilach Bullock has written about 'wowing' audiences with content, and argues that any content needs to be kept fresh and high-quality.
She also highlights the importance of creating content with a clear 'voice'.
Even if our opinions are somewhat different or occasionally verge on the controversial, presenting alternative viewpoints can generate additional interest and drive significant traffic to websites.
A recent post by Jeff Bullas caught our eye for this reason: 'Why you should steal content' seems on the face of it a shocking concept, but it's interesting to read about the reasoning behind it.
Art, Design & Technology
A few designs and products attracted our attention this week, including these LED mushroom desk lamps. 
Created by a Japanese designer Yukio Takano, these LED-powered glowing designs resemble wild mushrooms growing on logs. Check out his other mushroom-inspired creations on Great Mushrooming.
 
If you're in need of new business cards, this concept of a calling cube card is also interesting - certainly different and attention grabbing, but where would you file them?
The Green School bamboo design
We also liked the design of this Green School; a mega construction of bamboo in the forests of Bali, and how this floating boat of plastic has effectively recycled empty bottles.
It's your turn!
We're always interested to hear your comments, so feel free to send us any suggestions you have for future content!