Designing a Green Website: Selling Ethical Products Online Part 2
Who's your audience? The 'Secondary Greens' market
Welcome to our second post on designing ethical / green websites, a follow-up from last week's general design tips.
In this series, GWS Media is showcasing inspirational design ideas from web designers showing market savvy and design skill in the world of ethical / green products.
If you're intending your website to attract consumers who think about fashion / function first and greenness second, you might want to think about emphasising other aspects of your product.
Rather than making your page shout 'Green!' (thereby targeting a niche market, but perhaps alienating people who do not identify themselves as green consumers), why not think about highlighting, first and foremost, the main selling points for your target marketplace - while making subtly clear the environmental credentials and benefits?
(Our first post on this topic looked at the many different types of green consumer, and why it's important to think about which of them you're selling to.)
Combine a mainstream product's message with a subtler eco-theme.
Here's a page design GWS likes:  Mimimyne's Organic Baby Clothes site.
It uses text, subtle motifs and other page content to say 'Ethical', while targeting the product effectively at all mums.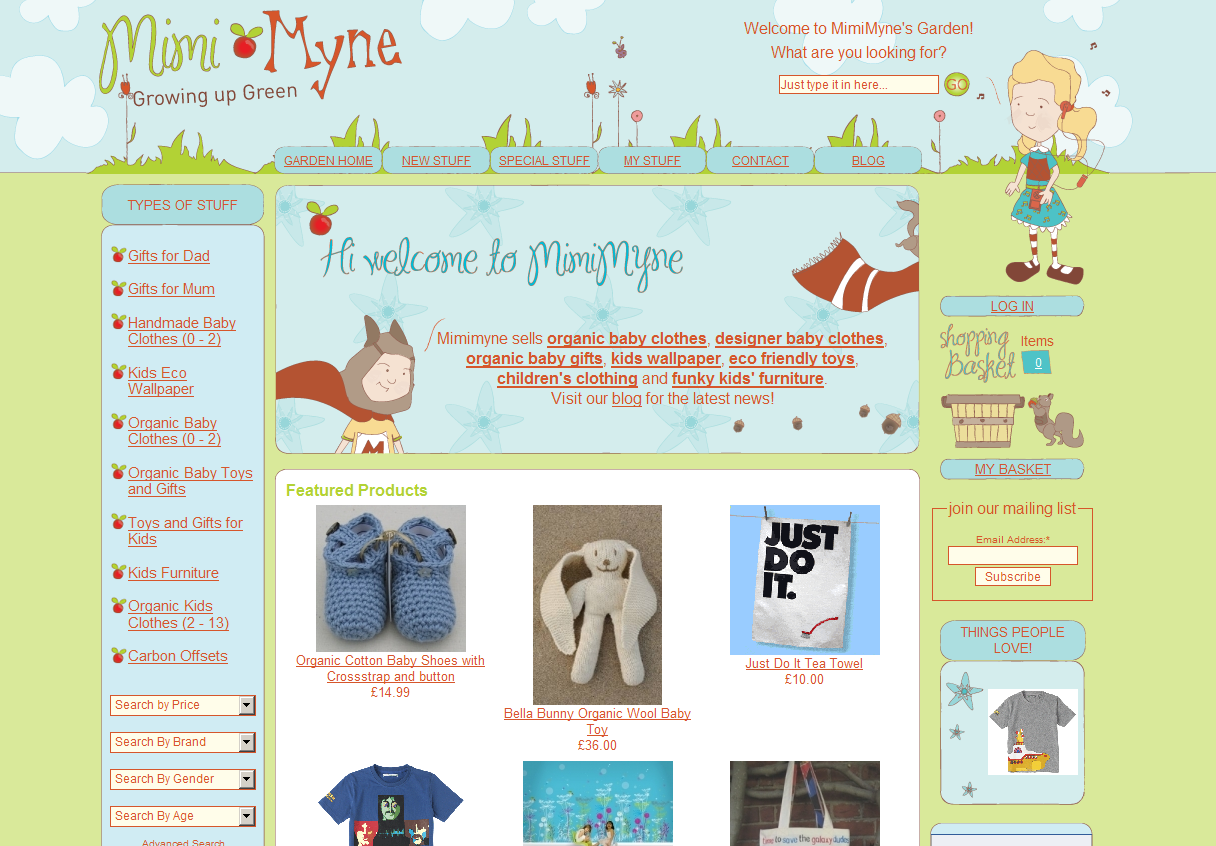 Also, check out Naturismo.com (NB: site no longer live as of September 2019 - see retained screenshot below) for another site whose design appeals to both mainstream and eco-conscious fashion consumers:

Keep your fonts and design clean.
With certain products, like homeware or beauty, mainstream consumers may expect to pay above the odds when they choose to buy green.
Remember this if you are targeting these non-price-sensitive buyers; and keep things upmarket, if not downright glamorous.
Biome Lifestyle manages to combine personal touches (using first-person text, and an eco- blog) with clean, yet luxurious and stylish website design: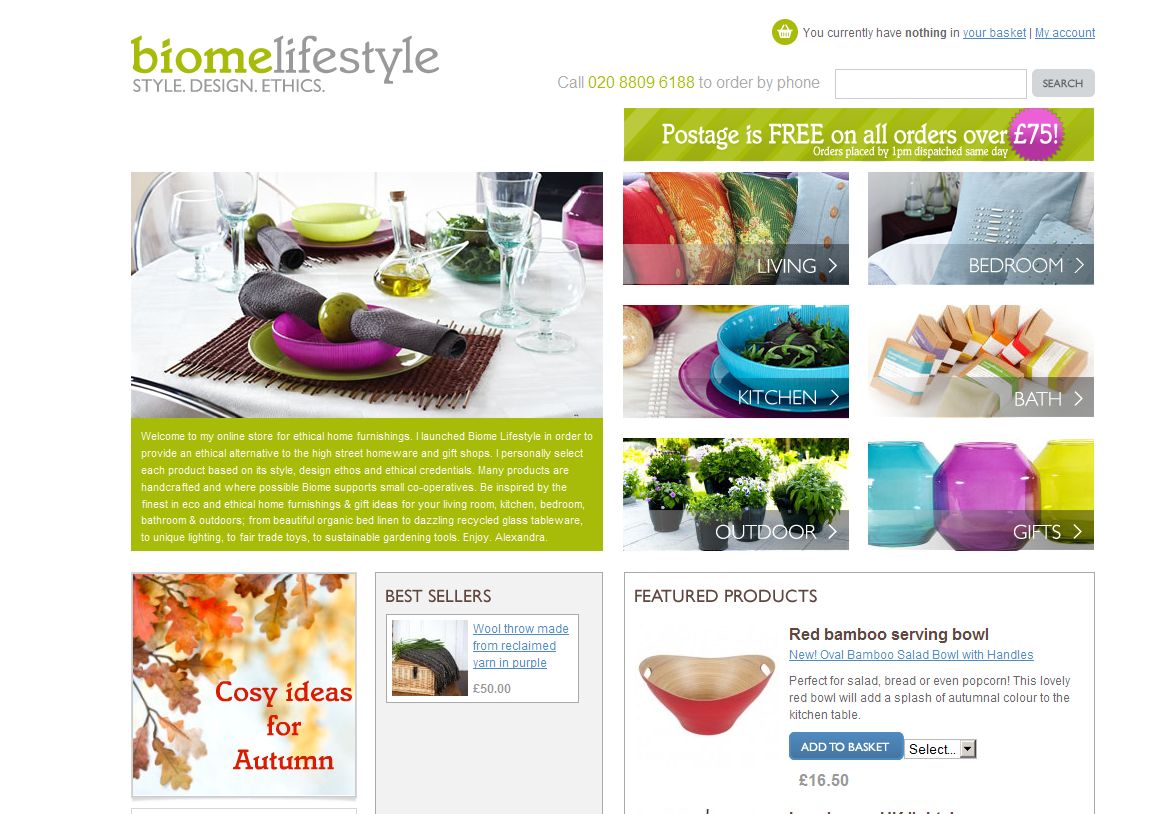 Mixing Ethical and Mainstream Products
You may be selling mainstream products alongside your 'ethical' products - some cosmetics may have been tested on animals, for example.
Make it very clear, with symbols perhaps, which of your products pass (green) muster and which do not.
An excellent example of how to do this, is Lush Cosmetics, which has a clear Vegan symbol on most (but not all) products, creating a clear signpost for concerned vegan consumers, while still allowing Lush to sell other ranges. 

The Vegan symbol that Lush Cosmetics uses to signpost their vegan products in their online store. The company will be observing World Vegan Day on November 1st and are using this day as a benchmark towards making their range fully vegan.
 
Lush, incidentally, are also currently showcasing an inspired and original Christmas theme: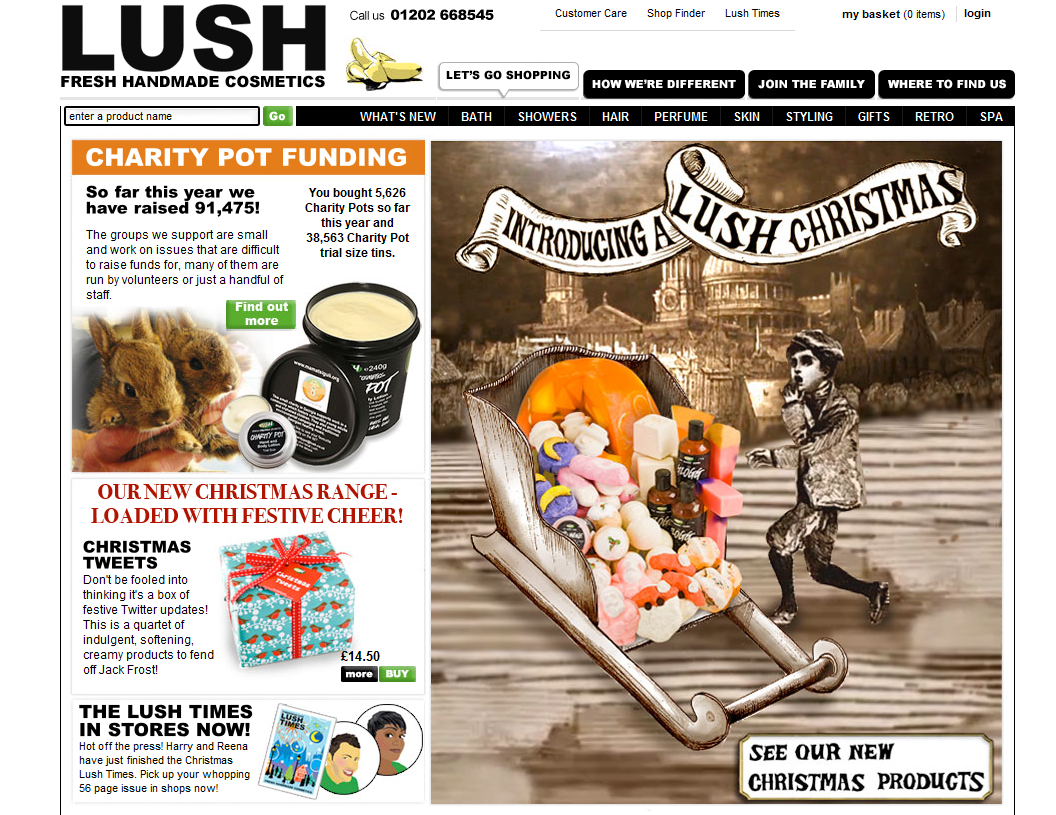 The website for Barter Buddies (now defunct - edited August 2019) effectively targets 'everybody', using pictures of real-looking people, and appealing to themes of green living- community spirit, re-using and recycling, and anti-consumerism- while leaving overt references to 'greenness' out of the text and logo: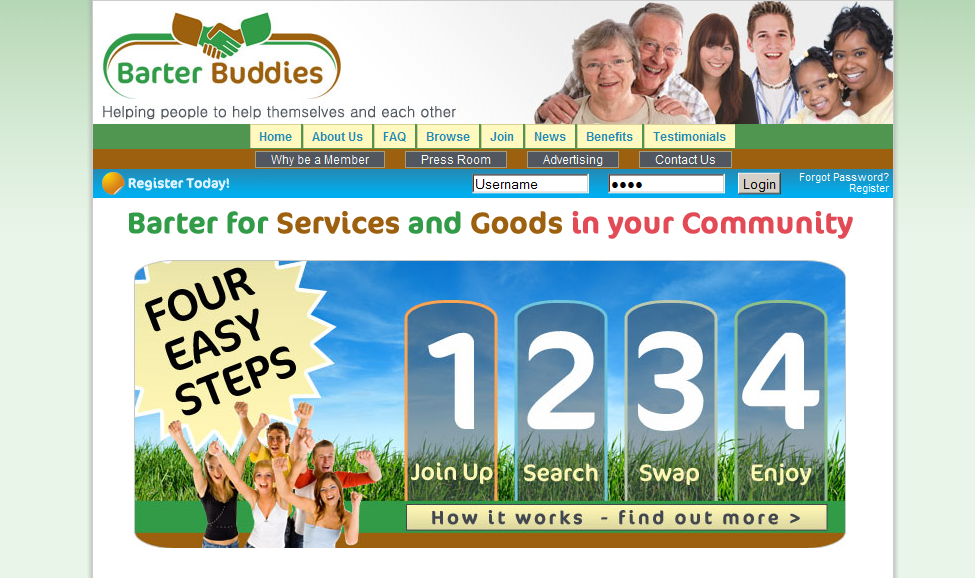 Sometimes, all you need to do is invoke an existing green motif and people will unconsciously associate you with green themes.
By keeping these links implicit, you won't exclude other buyers who don't make their product choices conditional on ethical criteria - and you can't be accused of not living up to strict ethical consumer guidelines, which you may risk if you attempt to make more overt claims - through text or design - for your products which can't be backed up in practice.
We can sum this post up with one basic rule:
Consumers who think fashion / function first, greenness second, may not visit your website intending to make a purchase dependent on 'greenness' - but they do need to trust your information, your brand, and (obviously) to like your online shopping service - or they won't come back.
This will become more important, GWS feels, as consumers become increasingly aware of greener alternatives to existing products - so make sure your website addresses all the above points for 'secondary' green consumers; and don't forget the design tips in our first post!
GWS Media will be following this post up shortly with a third, on Designing Green websites for 'serious and committed' greenies. This will discuss how to convey your commitment to the ethical causes which this target market demands, through an effectively designed and structured website.
If you liked this post or have suggestions for great-looking green or ethical websites we should feature, let us know!
Continue to Part Four: Designing a Green Website to Sell Ethical Products Online Part 3