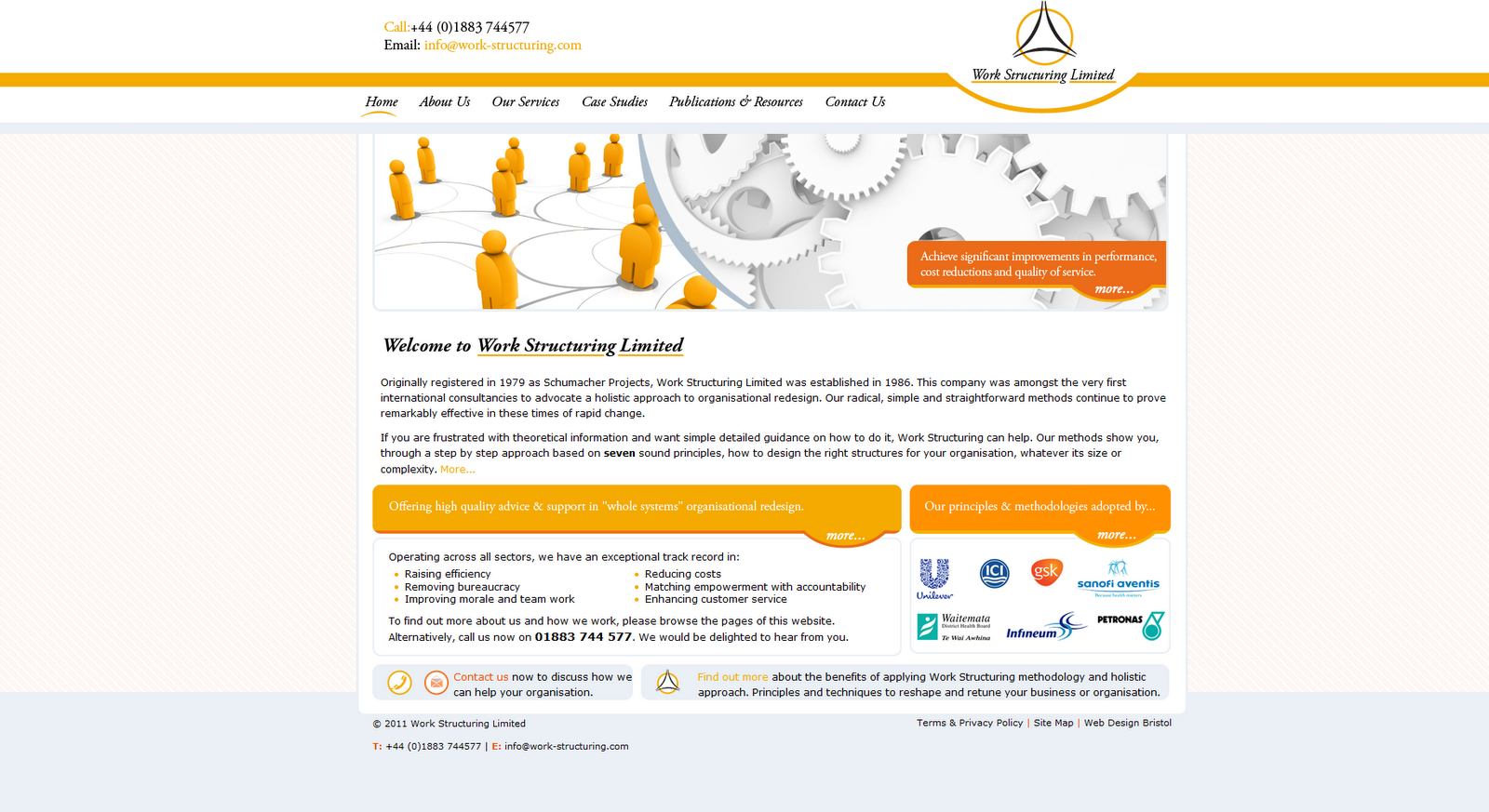 In Part One of this series we looked at the design of business-to-business websites, focusing on the importance of recognising your target audience, on navigation techniques which help your customer find their way around the site with ease and on the use of the sites front page to showcase the range of services the company offers.
In this post we will look at the visual aspects of designing a business-to-business page, using a site we designed for one of our clients Work Structuring Limited.
Work Structuring Limited is a company that shows you how to design the right structure for your organisation, whatever its size and complexity, while carefully and thoroughly considering your company's needs and requirements.
Work Structuring Limited is a perfect example of company which offers services to clients rather than material products, and how this should be targeted and reflected in the visual design of their website.
The website is visually pleasing and straightforward, allowing visitors of the site a non-intrusive view of the services the company offers.
The use of intricate, rather than bold, detail makes the site more appealing and reinforces the professional tone of the company.
Colour Scheme
We have mentioned in previous blog posts about website design, such as our posts on websites utilised to sell clothes online and green websites, that there is often a theme in the colour schemes, depending on the type of site.
In the design of B2B websites bold, block colours are a very popular choice, particularly when selling material products.
However, when selling services it is is important not to solely concentrate on being eye-catching but to portray your company's professional image.
We incorporated this into the colour scheme of Work Structuring Limited's site by following a consistent theme of yellow and orange tones throughout, with subtle mixtures of pastel tones which complement the vibrant colours without taking away from their presence.
This gives the company a fresh, modern image.
Images
One common issue faced when designing websites for non-product based B2B companies, such as Work Structuring Limited, is choosing the right images for the website, as you need to properly communicate what it is you offer and this can be harder to do for this type of organisation.
Also as with other sites, the pictures on display suggest things about your company.
If, for example, you have a picture of a person on your website, in some cases, this can inadvertently suggest a customer base of a particular age or gender.
The choice should be dependent on the type of organisation, and the services offered.
For Work Structuring Limited it was important to show that they work for many different types of businesses of varying sizes.
So for the home page we chose an image which though eye-catching, was neutral as to client base.

For the inner pages we chose an image which portrays the services offered but again without specifying the client base. 

Continuity

Continuity and consistency are important in terms of the branding and visual design of B2B websites, since they give it structure, make it more visually appealing and give it a smoother more streamlined feel.
We used brand continuity in the Work Structuring Limited website by replicating the curvature and features of the logo in the other tabs.
Again, this keeps the website looking fresh and up to date. 
Now we have considered the obvious visual differences and neccesities of a B2B website, our next focus will be on their overall functionality and usability.
Return to Part One: Website Design: Business-to-Business Websites Part 1